Cats or Dogs Test
You are here because one of your friends linked you to their Cats or Dogs Test result:
Take the Test
Results: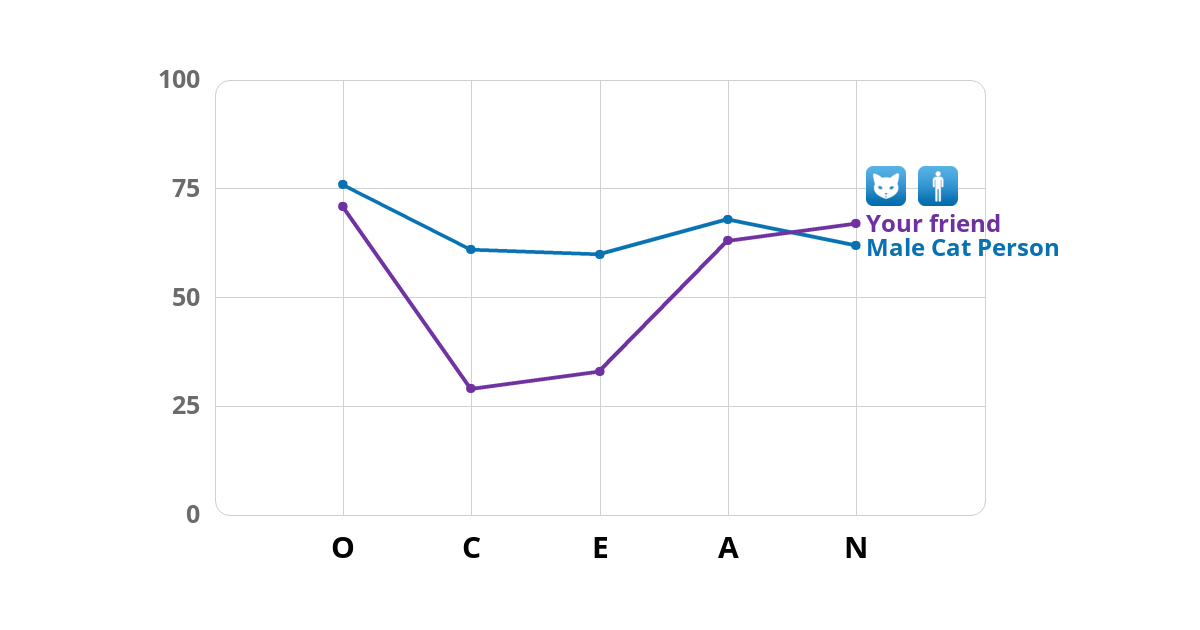 Your friend's personality is the closest to that of a male cat person.
Take the Test
Explanation of Traits:
Openness: High scorers are imaginative, daydreaming, intellectual, artistic, and like adventure and abstractions. Low scorers and practical, realistic, factual, sensible, down-to-earth, and prefer familiarity and routine.
Your friend's score is High.
Conscientiousness: High scorers are organized, reliable, self-controlled, orderly, cautious, and they have a strong sense of duty. Low scorers are disorganized, and procrastinating, act on spur-of-the-moment impulses and find rules constraining.
Your friend's score is Low.
Extroversion: High scorers are outgoing, gregarious, enthusiastic, assertive, action-oriented, and social. Low scorers are introverted, reserved, low-key, quiet, disengaged, deliberate, and have an increased need for time alone.
Your friend's score is Low.
Agreeableness: High scorers are considerate, altruistic, friendly, generous, sympathetic, modest, trusting, and helpful. Low scorers are critical, confident, self-interested, skeptical, stubborn, unfriendly, and uncooperative.
Your friend's score is High.
Neuroticism: High scorers are anxious, fearful, tense, nervous, self-conscious, and susceptible to anger and depression. Low scorers are serene, calm, stable, composed, tranquil, poised, and marked by few negative emotions.
Your friend's score is High.
References
Denissen, J. J., Geenen, R., Van Aken, M. A., Gosling, S. D., & Potter, J. (2008). Development and validation of a Dutch translation of the Big Five Inventory (BFI). Journal of Personality Assessment, 90, 152-157.
Gosling, S. D., Sandy, C. J., & Potter, J. (2010). Personalities of self-identified "dog people" and "cat people". Anthrozoos, 23, 213-222.
Perrine, R. M., & Osbourne, H. L. (1998). Personality characteristics of dog and cat persons. Anthrozoos, 11, 33-40.
Rammstedt, B., & John, O. P. (2007). Measuring personality in one minute or less: A 10-item short version of the Big Five Inventory in English and German. Journal of Research in Personality, 41, 203-212.