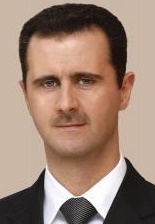 Bashar al-Assad Quotes
Quotes by and about Bashar al-Assad
(Continued from his main entry on the site.)
Assad: "Steadfastness and challenge is deeply rooted in the Syrian body which we have inherited over generations. We will always be like that."
New Republic: "If there's one thing those who know him agree on, it's that Bashar al-Assad is awfully eager to please. Friends and even ... enemies portray the Syrian president as a kind and generous man."
New Republic: "For years, many Western analysts and diplomats have viewed Assad as malleable, even naive. ... [He] is accustomed to being underestimated."
Edmund Schulenberg: "He [is] not arrogant, he [is] modest. ... It [is] very important to him to show his recognition of the authority of his superiors."
Vogue Magazine: "A precise man who ... talks lovingly about his first computer, he says he was attracted to studying eye surgery 'because it's very precise, it's almost never an emergency, and there is very little blood.'"
Eyal Zisser: "[He] was a quiet, shy child."
Financial Times: "Bashar was 'shy; he used to speak softly, with a low voice. He never asked about institutions or government affairs.' Assad was also close to his mother. ... 'A mama's boy more than a papa's boy,' is how one western politician describes the president."
Rami Makhluf: "[In his youth] Bashar showed himself to be a modest person. He never used a driver to take him from place to place, and he was in the habit of clearing away his dishes from the table himself."
Clive Migdal: "Bashar [is] a polite person."
New Republic: "[He is] very agreeable."
New Republic: "He lacks what the Syrian [intellectuals call] 'the celestial imagination.'"