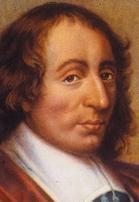 Blaise Pascal Quotes
Quotes by and about Blaise Pascal
(Continued from his main entry on the site.)
Pascal: "I have got friends among all parties."
Pascal: "When we wish ... to show another that he errs ... notice from what side he views the matter ... and admit that truth to him, but [then] reveal to him the side on which it is false. He will then be satisfied with that, for he sees that he was not mistaken, but that he only failed to see all sides."
Pascal: "People are generally better persuaded by the reasons which they have themselves discovered than by those which have come into the mind of others."
Pascal: "Human life is thus only a perpetual illusion; men deceive and flatter each other. No one speaks of us in our presence as he does of us in our absence. Human society is founded on mutual deceit; few friendships would endure if each knew what his friend said of him in his absence, although he then spoke in sincerity and without passion. Man is then only disguise, falsehood, and hypocrisy, both in himself and in regard to others. He does not wish any one to tell him the truth; he avoids telling it to others, and all these dispositions, so removed from justice and reason, have a natural root in his heart."
Pascal: "We do not rest satisfied with the present. We anticipate the future as too slow in coming, as if in order to hasten its course; or we recall the past, to stop its too rapid flight. So imprudent are we that we wander in the times which are not ours, and do not think of the only one which belongs to us; and so idle are we that we dream of those times which are no more, and thoughtlessly overlook that which alone exists. For the present is generally painful to us. We conceal it from our sight, because it troubles us; and if it be delightful to us, we regret to see it pass away. ... Let each one examine his thoughts, and he will find them all occupied with the past and the future. ... The present is never our end. The past and the present are our means; the future alone is our end. So we never live, but we hope to live; and, as we are always preparing to be happy, it is inevitable we should never be so."