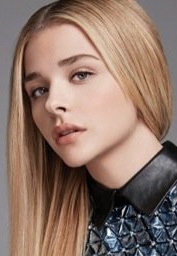 Chloe Grace Moretz Quotes
Quotes by and about Chloe Grace Moretz
(Continued from her main entry on the site.)
Moretz: "I have fun with what I do and I just go with it. I have a good time with life."
Moretz: "I'm very adventurous and very curious. I'm always wondering and trying to figure out what the trick is."
Moretz: "I'm a very competitive girl. In everything I do ... [I'm] always trying to be the best."
Moretz: "I always had this really strong [performing] inclination."
Moretz: "I love pushing my emotional boundaries to a different level and expressing emotions."
[Asked what she would do if she weren't an actress:]
Moretz: "I'd probably fly helicopters and airplanes, or something fun!"
The Guardian: "Moretz must be the most unfazed and unbelievably poised 14-year-old."
The Mirror: "Moretz isn't beyond a little subterfuge to land a much-coveted role. ... Chloe fooled ... Martin Scorsese to land the part in his ... film, 'Hugo'. ... She [pretended to be British during her audition and successfully] tricked ... Scorsese into thinking she was British, like her co-star Asa Butterfield and most of the rest of the cast."
Alex Winehouse: "Chloe Moretz has revealed that she conned Martin Scorsese into thinking she was British to land a role in 'Hugo'. The 14-year-old American used her mastery of accents to convince the legendary director that she, like co-stars Asa Butterfield, Sacha Baron Cohen and Ben Kingsley, was actually a native of the UK."