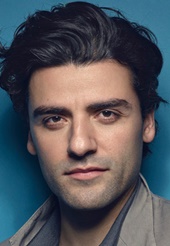 Oscar Isaac Quotes
Quotes by and about Oscar Isaac
(Continued from his main entry on the site.)
Isaac: "I hate [people who are] detached and emotionally cool."
Isaac: "I like when you watch something and you get the sense it's something you're not supposed to be seeing."
Isaac: "[Clothing] can be such an indicator of so many things. How you feel, how you want others to perceive you. ... [When creating a character] I always try to find something [about their clothing] that is grounding."
Isaac: "People today are afraid of frankness. That's why they litter their sentences with 'like.' They're protecting themselves from committing to statements. ... I think it's good to be a little more fearless in saying what you feel. [I'm not] scared of the repercussions of that."
Isaac: "I hate business - I think it's the most boring thing ever - I hate real estate, I hate money."
The Telegraph: "[He has] a wide, goofy smile beneath puppyish eyes."
Rolling Stone: "He started getting in trouble as early as first grade, when his class-clownish urge to perform led a teacher to put up a barricade around his desk to prevent him from distracting the class. He turned it into a venue for puppet shows."
The Telegraph: "Isaac was performing in a play in New York in 2000 when one day he passed by the prestigious Juilliard School and decided to inquire about applying to its drama course. 'It was a Monday and they said the deadline had passed on the Friday. But I asked for a form anyway and then I came back the next day and just pleaded and pleaded for them to accept it for that intake.'"
The Guardian: "[When applying to drama school he] persuaded a lady in admissions to accept his late application. [In person] I can easily imagine him setting his large brown eyes to 'pleading.'"
The Guardian: "He is easy, peachy company. On screen he is prone to the smoulder; up close he beams unselfconsciously, campily tactile, eager to connect, recalling stories in dialogue form, rather than precis."