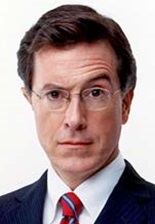 Stephen Colbert Quotes
Quotes by and about Stephen Colbert
(Continued from his main entry on the site.)
Colbert: "I'm very comfortable with uncomfortable situations, and I think that can seem odd to people, that I like the thrill of discomfort."
Colbert: "I like to do things that are publicly embarrassing ... to feel the embarrassment touch me and sink into me and then be gone. I like getting on elevators and singing too loudly in that small space."
Colbert: "[When I was young] I watched [the movie 'All That Jazz'] and I thought, Well, I'd like to do that. I'd like to live that dark life. That kind of appeals to me. I liked how damaged they were and how they used that to ... create art, create something beautiful. ... There was something viscerally attractive to me about living this sort of life that might kill you young. I liked these unhappy people."
Colbert: "I have a healthy disrespect for authority."
Colbert: "I think one of my strengths [is] my ability to serve other people's ideas. I'm proud of my ability to understand what somebody else is trying to do."
Colbert: "Sometimes [on 'The Colbert Report'] I really just want my natural curiosity to run wild with the guest. It kills me that I can't know more about what they're talking about."
New York Times: "Mr. Colbert said that the self-assuredness [which he has] in his work was sorely lacking elsewhere in his life. 'I can't ever decide where I want to eat or what movie to see, where we'll go on vacation or what clothes to wear - anything,' he said. 'But [my creative work on] the show, it's easy.'"
GQ Magazine: "He's so unlike anyone else on television, or even anyone in TV memory."
GQ Magazine: "In every moment of every conversation, his focus is on the person in front of him."
[High school friend:] "The thing about Colbert is he's fucking brilliant. He was always the smartest guy in the room, and he was always smart enough not to let you know he was the smartest guy in the room."