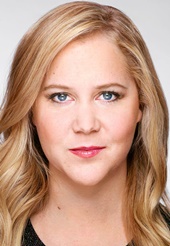 Amy Schumer Quotes
Quotes by and about Amy Schumer
(Continued from her main entry on the site.)
Schumer: "I identify with nerds, drama geeks, athletes, sluts, and prudes. I [don't] identify with the kids who had straight As."
Schumer: "There's ... more pressure on comedians [to be politically correct] now, but I'm just going to try to keep doing what I've been doing always and saying stuff that I think is funny."
Schumer: "I look to have fun. ... You don't know what's going to happen. ... I want to experience all I can and make as many memories as I can."
Schumer: "I know that I have a lot to say. And I have really good intentions."
Schumer: "I am a woman with thoughts and questions and shit to say. I say if I'm beautiful. I say if I'm strong. You will not determine my story, I will. ... I am not who I sleep with. I am not my weight. I am not my mother. I am myself."
The Guardian: "Schumer turned down replacing Jon Stewart as the host of The Daily Show, because she didn't want to know what she would be doing for the next five years."