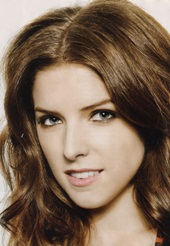 Anna Kendrick Quotes
Quotes by and about Anna Kendrick
(Continued from her main entry on the site.)
Kendrick: "I get really excited every time there's a female character who is really strong because a lot of females in film are really soft."
Kendrick: "Wearing dresses ... is certainly not something I'm comfortable with on a day-to-day basis."
Kendrick: "Sometimes when I try to make jokes or have a sense of humor in interviews, it doesn't go over very well. But Twitter made my life easier in this way that I didn't expect. It would have taken probably 10 times as long for people to accept my voice and my sense of humor if I didn't have Twitter."
Kendrick: "In first grade when I'd tell my parents what I learned in class and they'd act amazed, I'd think, 'Shouldn't you know this shit already?'"
Kendrick: "[One time when I went on an audition as a child actor] there was a roomful of kids and they taught us this jingle which we all had to sing. I remember looking around: everyone seemed so thrilled to be singing it. Then the casting director stopped us and said, 'Anna, can you smile more please? You don't seem like you're very happy.' I wasn't so good at doing that cheesy little kid thing."