ISTP

Miyamoto Musashi
Samurai and author of 'The Book of Five Rings'
Musashi: "If you make your opponent flinch, you have already won."
Musashi: "I dislike preconceived thought."
Musashi: "You win battles [by] using a timing which the enemy does not expect."
Musashi: "When you [know] the rhythm of any situation, you will be able to hit the enemy naturally and strike naturally."
Musashi: "Really skillful people ... never appear busy."
Paul Gallagher: "He immersed himself deeply in his practice and limited himself to just a few words."
ISTP

Erwin Rommel
World War II general
Rommel: "Strike at once. You cannot permit unique opportunities to slip by for the sake of trifles."
Rommel: "Mortal danger is an effective antidote to fixed ideas."
Harold Alexander: "He was a tactician of the greatest ability, with a firm grasp of every detail of the employment of armor in action."
Harold Alexander: "[He was] very quick to seize the fleeting opportunity and the critical turning point of a mobile battle [and cared little for] a sound administrative plan."
Albert Kesselring: "He was the best leader of fast-moving troops."
Keirsey & son identify Rommel as ISTP.
ISTP

Steve Jobs
Founder of Apple along with Steve Wozniak
Jobs: "One of my mantras - focus and simplicity."
Jobs: "I say when something sucks rather than sugarcoat it."
Guy Kawasaki: "If you're a Steve fan, you say: 'He knew how to cut through all the bullshit.' If you're not a Steve fan, [you say]: 'He lacked social graces.'"
ISTP

Jack Dorsey
Founder of Twitter
Dorsey: "Expect the unexpected. And whenever possible, be the unexpected."
Dorsey: "My goal is to simplify complexity."
Dorsey: "Making something simple is very difficult."
Dorsey: "I am less interested in ... people ... and more interested in ... topics."
Vanity Fair: "The minimalism of Twitter - each tweet can be no longer than 140 characters - reflects Dorsey's own terseness."
Ashton Kutcher: "What makes Jack magic is his precision. When he speaks he makes every syllable count."
Wired Magazine: "Dorsey boasts a Steve Jobs-like obsession with design and detail."
ISTP

Diogenes the Dog
Greek philosopher
Diogenes: "I saw a woman praying in front of an altar with her ass in the air and said to her: 'Look out; Zeus is behind you, too.'"
Diogenes: "Other dogs bite only their enemies, whereas I bite also my friends."
Diogenes: "No one can live with me as a companion: it would be too inconvenient."
Diogenes: "Of what use is a philosopher who doesn't hurt anybody's feelings?"
[Alexander: "I am Alexander the King."]
Diogenes: "I am Diogenes the Dog."
[Alexander: "Ask me any boon you like."]
Diogenes: "Step out of my sunlight."
Alexander: "If I were not Alexander, the great king, I would be Diogenes."
Plato: "He is a Socrates gone mad."
ISTP

Dalai Lama XIV
Head of Tibetan Buddhism
Dalai Lama: "As a child I liked to disassemble things; radios, clocks, and the like. I took them apart to see how they worked."
Dalai Lama: "When you look for a teacher you should be very, very suspicious. ... You must test them."
Dalai Lama: "By learning from science ... I believe that Buddhism enriches its own worldview."
Dalai Lama: "Mao was like a father to me."
Richard H. Jones: "The Dalai Lama [has a lot of] enthusiasm for science."
Desmond Tutu: "He has a childlike, boyish, impish mischievousness. And I have to try and make him behave properly, like a holy man!"
ISTP

Ron Paul
U.S. Congressman (R) and presidential candidate, father of Rand Paul
Paul: "I did not need to be convinced of the merits of individual freedom - for me that came naturally."
Paul: "Freedom is all about taking your own risks."
Paul: "For as long as I can remember, I wanted to be free from government coercion in any form. All my natural instincts ... were inevitably challenged by ... the media and the government."
Business Insider: "Paul doesn't sugar-coat his answers. He doesn't state them in a way most calculated to appeal to his audience."
Unusually for ISTPs, Paul also has Dependent traits.
ISTP

Donald Rumsfeld
U.S. Secretary of Defense (R)
Rumsfeld: "I don't do diplomacy."
Rumsfeld: "The best strategists [are] agile enough to adjust course if and when new and surprising information requires it."
Rumsfeld: "Certainty without power can be interesting, even amusing; certainty with power can be dangerous."
[On his secretary calling him a son of a bitch:]
Rumsfeld: "She had a point."
Weekly Standard: "He's got a well-earned reputation for blunt talk."
Richard Nixon: "Rummy is tough. ... He's a ruthless little bastard."
ISTP

Yulia Tymoshenko
Prime Minister of Ukraine
Tymoshenko: "It's no use trying to intimidate me. ... I [have no] sense of fear."
Tymoshenko: "If [an] opposition is strong, the aggressor will retreat. If [an] opposition is weak ... then [the aggressor] will go as far as [conditions] allow."
Tymoshenko: "[An] aggressor can only be stopped by a ... force which the aggressor cannot overcome and knows that he cannot overcome."
Tymoshenko: "[My opponents are] bureaucrats wasting time in the state office."
Financial Times: "Up close she is dazzling [and] humming with ... animal vitality. ... She is on top of her game."
The Observer: "[She] is a ... political opportunist with no fixed ideas."
ISTP

Magnus Carlsen
World no. 1 chess player, student of Kasparov
Carlsen: "Some people think that if their opponent plays a beautiful game, it's okay to lose. I don't. You have to be merciless."
Carlsen: "There wasn't any particular player I modeled my game after. ... I studied past players [but] truth be told I never had a favorite player. It's just not my nature to go around idolizing people."
Carlsen: "[My] moves are intimidating enough [that] I don't need any extra tricks to make my opponents fear me."
Carlsen: "I wasn't paying much attention so I wasn't great at school. ... In my later years at school I was bored, not necessarily because it was too easy, but because it didn't interest me."
Joe Ellison: "There's a quiet intensity to Carlsen."
ISTP

Melania Trump
U.S. First Lady, married to Donald Trump, stepmother of Ivanka Trump
Trump: "[One] should not be satisfied with stagnation."
Trump: "Don't lose ... momentum. ... Go for it. You don't want to [look] back and say, 'Oh! Why didn't I do that?'"
Trump: "[Come to me for sympathy and I'll say:] 'You did it. Now deal with it.'"
Trump: "People don't really know me. I'm very strong. I can handle everything."
Trump: "I take [things] day by day."
The Telegraph: "[In person, you catch] a flash of her inner steel."
ISTP

Vladimir Putin
President of Russia
Putin: "One should never fear threats. It's like with a dog. A dog senses when somebody is afraid of it, and bites. The same applies [with humans]. If you become jittery, they will think that they are stronger."
Putin: "Only one thing works: Go on the offensive. You must hit first, and hit so hard that your opponent will not rise to his feet."
Putin: "Judo is not just a sport. It's a philosophy. [And] it's not for weaklings."
[His wife:] "[Putin] described himself to me: Not a talker, can be pretty harsh, can hurt your feelings - not a good person to spend your life with. [Then] he said, 'I propose we get married.'"
About ISTPs
Cool, self-contained problem-solvers
Strongly linked to the Negativistic personality
Somewhat linked to the Antisocial personality
More common in men than in women
Repress their Extroverted Feeling function, meaning they may find themselves unintentionally giving offense
ISTP Functions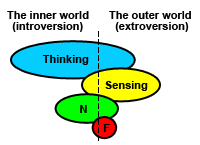 | | |
| --- | --- |
| 1. Dominant: | Introverted Thinking |
| 2. Auxiliary: | Extroverted Sensing |
| 3. Tertiary: | Introverted Intuition |
| 4. Inferior: | Extroverted Feeling |
Even more ISTPs
We have more notable ISTPs as part of our extended content

Get access: Learn more

Already a member?