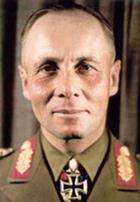 Erwin Rommel Quotes
Quotes by and about Erwin Rommel
(Continued from his main entry on the site.)
Rommel: "Sweat saves blood, blood saves lives, and brains save both."
Sepp Dietrich: "Rommel was jumpy, wanted to do everything at once, then lost interest. ... When successful, he was good; during reverses, he became depressed."
Winston Churchill: "[Rommel] was a splendid military gambler ... scornful of opposition ... and may I say, across the havoc of war, a great general."