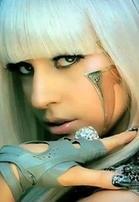 Lady Gaga Quotes
Quotes by and about Lady Gaga
(Continued from her main entry on the site.)
Gaga: "I think that fashion and music go hand-in-hand, and they always should. It's the artist's job to create imagery that matches the music. ... They are very intertwined."
Gaga: "Passion means more than anything."
Gaga: "If you only believe that you're an artist when you have ... a single coming out ... that's quite soulless. You have to have a sense [of] your own ability from a very deep place inside you."
Gaga: "Whether I'm wearing lots of makeup or no makeup, I'm always the same person inside."
Gaga: "Free [yourself of your] fears. ... Make [your] own space in the world."
Gaga: "If you say something that doesn't truly come from your spirit and your soul ... it's an injustice to your position. And so, I'm really myself every single day."