ISFP

Jacqueline Kennedy Onassis
U.S. First Lady and fashion icon, married to John F. Kennedy
Onassis: "I always live in a dream world."
Onassis: "I never ... kept a journal. I thought, 'I want to live my life, not record it.'"
Evelyn Lincoln: "[Her] voice was a wedding of innocence and steel."
Hillary Clinton: "Unpretentious elegance characterized everything she did."
[Hillary Clinton: "Should I turn myself over to a stylist?"]
Onassis: "Oh no! You have to be you. You'll end up wearing someone else's idea of who you are and how you should look. Concentrate instead on what's important to you."
Keirsey & son identify Onassis as ISFP.
ISFP

Ulysses S. Grant
U.S. President (R) and Civil War general
Grant: "[I did not rejoice] at the downfall of [the South] who had fought so long and valiantly, and had suffered so much for a cause, though that cause was, I believe, one of the worst for which a people ever fought. [But] I do not question ... [their] sincerity."
Henry Ward Beecher: "Abhorring show, [Grant was] simple in manner, gentle in his intercourse, modest and even diffident in regard to his own personality."
Steven J. Rubenzer: "Grant was an innocent. ... He was not like any other president."
Steven J. Rubenzer: "Unlike most presidents, Grant ... preferred simply to go his own way rather than be a leader."
ISFP

Jonathan Ive
Lead designer at Apple
Ive: "I think we are surrounded by multiple, multiple products that testify to companies who don't really care."
Ive: "I'm constantly haunted by thoughts of, 'Is it good enough? Is there any way we could have made it better?'"
Robert Brunner: "He is a consummate designer on all levels, especially around form, detail, materials and refinement."
Leander Kahney: "He's the nicest, politest guy you ever met and very softly spoken."
Clive Grinyer: "He hasn't got where he is because of his ego."
Neil Smith: "He is incredibly self-effacing."
[Steve Jobs' wife]: "Most people in Steve's life are replaceable. But not Jony."
ISFP

Joern Utzon
Architect of the Sydney Opera House
Utzon: "The most important thing to me is humility. My buildings should adapt to their surroundings, not impose themselves on the world."
Utzon: "[My architecture] is treating space like music."
Mogens Prip-Buus: "One day, Utzon came into the office pretending to be Frank Lloyd Wright."
ISFP

Thich Nhat Hanh
Thien Buddhist master
[When asked how do to walking meditation:]
Hanh: "Just pretend that you are the happiest person in the world."
Hanh: "During the [Vietnam] war we young Buddhists ... were able to understand the suffering of both sides. ... That is why we did not take a side even though the whole world took sides."
Hanh: "[During the war] we [young buddhists] tried to tell people our perception of the situation. ... We wanted to stop the fighting, but the bombs were so loud."
Sallie B. King: "[Hanh's] goal was peace and reconciliation, not one side winning over the other."
ISFP

Nero
Emperor of Rome
[Last words:]
Nero: "Qualis artifex pereo!"
(So great an artist, I die!)
Juergen Malitz: "Augustus and Caesar had learned to feign interest in the theater and the circus. ... Nero did not need to feign interest."
Edward Gibbon: "Nero excelled ... in the elegant arts of music and poetry [and] we should not despise his persuits."
Napoleon Bonaparte: "The people loved Nero. ... There is a reason for this which [history] omits. ... Nero never burdened the ordinary people. But Tacitus says nothing of this. He [only] speaks of his crimes. ... We, as a result, feel that Tacitus is biased."
ISFP

Leni Riefenstahl
Nazi filmmaker
Riefenstahl: "I was a dreamy child."
Riefenstahl: "As long as I live, I will say yes to life."
Riefenstahl: "I naturally prefer and capture the beauty in life."
Riefenstahl: "Reality doesn't interest me."
Riefenstahl: "I [seek] a style in the realm of legend. Something that might allow me to give free rein to my juvenile sense of romanticism and the beautiful image."
ISFP

Rudolf Hess
Deputy Fuehrer in Nazi Germany
Hess: "The conscience of a moral personality is a far greater protection against the misuse of an office than is the supervision of parliament or the separation of powers."
Hess: "Being true ... means being modest and unassuming."
Albert Speer: "Hess did not have the qualities necessary for survival in the midst of a swamp of intrigues and struggles for power. He was too sensitive, too receptive."
Ernst Hanfstaengl: "Hess was a moody introvert."
At the Nuremberg Trials, Hess' IQ was tested to be 120.
About ISFPs
Unassuming yet passionate aesthetes
Strongly linked to the Dependent personality
Somewhat linked to the Histrionic and Avoidant personalities
More common in women than in men
Repress their Extroverted Thinking function, meaning they sometimes fail to draw logical conclusions about their situation and act on them
ISFP Functions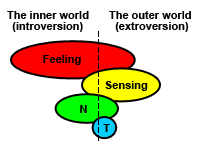 | | |
| --- | --- |
| 1. Dominant: | Introverted Feeling |
| 2. Auxiliary: | Extroverted Sensing |
| 3. Tertiary: | Introverted Intuition |
| 4. Inferior: | Extroverted Thinking |
Even more ISFPs
We have more notable ISFPs as part of our extended content

Get access: Learn more

Already a member?