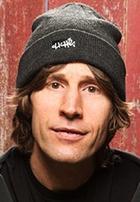 Rodney Mullen Quotes
Quotes by and about Rodney Mullen
(Continued from his main entry on the site.)
Mullen: "I've got issues of non-conformity built into me. ... I'm not comfortable doing what other people are doing because that's taking away part of my identity."
Mullen: "Skating first appealed to me because ... it wasn't organized or coached. ... Everybody did things their own way."
[Interviewer: "What is your reaction to being famous?"]
Mullen: "Why do they care about me?"
Mullen: "There is rhythm everywhere ... and [I] skate in isolation so that it doesn't break my internal rhythm. When people skate in social circumstances, there is broken rhythm."
Mullen: "Don't expect to be put in a special position. ... Nobody's going to offer you a position at the top. Learn the moves, for the sake of the moves! ... You've got to prove yourself!"
Mullen: "The truth is I think about [skating] all the time. What I want to do, what I want to do to make it different."
Mullen: "The stuff [I] obsess about ... It's always [about] pushing [the boundaries of] what [I] haven't done."
Mullen: "I'm analytical about [skating] but everyone has different approaches and that's just my process."
Mullen: "I was told not to skateboard because I would turn into a bum - but what [skateboarders] are doing is harder, and gnarlier, and more real than what we see on most sports channels with guys making millions of dollars."
Mullen: "The fact that there is rhyme and reason to the universe gives me significance as a person."
Paul Rodriguez: "Rodney has always had the most mind-boggling, most difficult tricks."