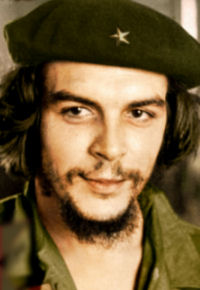 Che Guevara Quotes
Quotes by and about Che Guevara
(Continued from his main entry on the site.)
Guevara: "Seamos realistas pidamos lo imposible."
("Let's be realistic and demand the impossible.")
Guevara: "The people are weary of being oppressed, persecuted, exploited to the maximum ... so that the greatest profit can be wrung from each human body, profit later squandered in the orgies of the masters of capital."
[In a letter to his mother:]
Guevara: "Calica keeps cursing the filth and ... looks at his dirty shoes instead of at the sky or a cathedral outlined in space. He does not smell the intangible and evocative matter of which [the city of] Cuzco is made, but only the odor of stew and excrement. It's a question of temperament."
[In an address to the United Nations:]
Guevara: "We should like to see this assembly shake itself out of complacency and move forward. ... Imperialism wishes to convert this meeting into a pointless oratorical tournament, instead of solving the grave problems of the world. We must prevent their doing so."
Guevara: "The merit of Marx is that he ... interprets history, understands its dynamic, predicts the future, but in addition to predicting it, he expresses a revolutionary concept: the world must not only be interpreted, it must be transformed."
Guevara: "[I would like to use missiles] against the very heart of America including New York. We must never establish peaceful coexistence. In this struggle ... between two systems we must gain the ultimate victory ... even if it costs millions of atomic victims."
CIA Memo: "Che is fairly intellectual for a Latino."
Ariel Dorfman: "[Che] was ready to die because he could not tolerate a world where the poor of the earth, the displaced and dislocated of history, would be relegated to its vast margins."
Fidel Castro: "Che sowed the seeds of social conscience in Latin America and the world. He was a flower prematurely cut from its stem."
Jean-Paul Sartre: "Che is not only an intellectual but also the most complete human being of our age."