INTJ

Francis Ford Coppola
Filmmaker, father of Sofia Coppola, uncle of Nicolas Cage
Coppola: "Your best idea ... is going to be attacked the most. You have to really be courageous about your instincts and your ideas. Otherwise you'll just knuckle under."
Coppola: "Each time I make a movie, I give it everything I have. ... I think everyone should do everything they do that way."
Coppola: "[I] build on a large scale [and] with intense passion."
Coppola: "I know if I have an idea, no one will want to go through it. But if I persist, people will go through it."
Coppola: "The goal is to make films that only you can make."
Coppola: "It's better to be overly ambitious and fail than to be under-ambitious and succeed in a mundane way."
Rolling Stone: "In his films, he has defined, re-created and explored ... with [a] grandiosity of vision."
INTJ

James Cameron
Filmmaker
Cameron: "People call me a perfectionist, but I'm not. I'm a rightist. I do something until it's right."
The Independent: "He is notorious on set for his uncompromising and dictatorial manner."
Kate Winslet [on 'Titanic']: "He's a genius in terms of his vision, a maniac in terms of getting what he wants."
Sigourney Weaver [on 'Aliens']: "He really does want us to risk our lives and limbs for the shot."
Linda Hamilton [on 'Terminator']: "James Cameron is definitely on the side of the machines."
INTJ

Russell Crowe
Actor
Crowe: "People accuse me of being arrogant all the time. I'm not arrogant, I'm focused."
Crowe: "I want to do movies that have a strong sense of purpose."
Daily Mail: "It is clear that Crowe is someone who says and does exactly what he wants."
Paul Giamatti: "[He has] a distinct vision for the movies that he is a part of - and the nearly unprecedented power to will them into being."
Jennifer Connelly: "He's used to people bowing down ... because he's very charismatic, very bright and has such a strong presence."
INTJ

Arnold Schwarzenegger
U.S. Governor (R) and actor
Schwarzenegger: "I think anything we do, you need an enormous ego to do that. ... The ego has to be satisfied."
Schwarzenegger: "Normal people can be happy with a regular life. I was different. I felt there was more to life than just plodding through an average existence."
Schwarzenegger: "My relationship to power and authority is that I'm all for it. ... Ninety-five percent of the people in the world need to be told what to do and how to behave."
Schwarzenegger: "I consider myself an expert in looking into a particular idea or goal and then going after it without anything else in mind."
INTJ

Jodie Foster
Actress
Foster: "I always play strong [characters]. ... I'm not sure I know how to play weak. I really don't know how."
Foster: "If I fail, at least I will have failed my way."
Foster: "[As a child I thought that acting is] a dumb job. Somebody else writes something and then you repeat it. How dumb is that?"
Foster: "Normal is not something to aspire to, it's something to get away from."
David Fincher: "The characters that she's played are indicative of a very feisty intelligence."
Mel Gibson: "[She is] strong, honest [and has a] complexity that I would never presume to decipher."
INTJ

Julia Stiles
Actress
Stiles: "I tend to gravitate toward the more powerful roles. As opposed to the doe-eyed girl who bats her eyelashes ... because that makes me want to vomit."
Stiles: "People confuse bluntness with bitchiness."
Stiles: "I [am] very heady and intellectual and that's kind of contrary to what makes a good actor."
Stiles: "I have these abstract ideas and then lose track of myself. I ... go on and on."
The Guardian: "One thing is clear when you're talking to Stiles: She knows her mind. ... You get the feeling that ... she doesn't suffer fools gladly."
INTJ

Colin Firth
Actor
Firth: "[I am] a person who is inclined to overthink."
Firth: "Normal people just aren't very interesting."
Firth: "[As an actor] it's frustrating playing someone stupider than you."
Firth: "Dancing and singing [take] me very far out of my comfort zone."
Elle Magazine: "[He is] gravely passionate over serious issues."
The Guardian: "He emits a slow-burning magnetism that reveals itself in stages."
INTJ

Jason Bateman
Actor
Bateman: "[In school I was] a disruptive smartass."
The Guardian: "[He] can be brutally honest."
Joe Robberson: "In the Sarcasm Hall of Fame, there's Bateman and then there's everyone else."
Dustin Rowles: "[He has a] sly, dry wit ... halfway between ridiculously charming and spectacularly douchy."
INTJ

Annie Clark
(St. Vincent)
Clark: "I'm trying to create a world that I wish existed as a form of subverting the world as it does exist."
Clark: "When you're forced to deal with something big ... you try to find ways to interpret the universe ... that can make you feel safer or alleviate that crazy."
Clark: "I ... tend to be ... cerebral and ... in my head most of the time."
Clark: "I find a lot of liberation [in] structure. ... If I know where I'm supposed to be, then I can deviate, and live in the moment."
Clark: "[I have a] sardonic nature."
Rolling Stone: "In conversation [she is] wry, erudite and free-associative."
INTJ

Ashley Olsen
Actress and fashion designer, sister of Mary-Kate Olsen and Elizabeth Olsen
Olsen: "I've always been [both] a business and creative person. That's the way my brain works."
Olsen: "[I am a] perfectionist. ... If [I] step away, it stops working. I know it sounds controlling, but that's how it has to be."
Olsen: "It's important to stay true to yourself in order to be a successful leader in anything. [Don't] conform to what others [are] doing."
Marie Claire Magazine: "Ashley's voice ... slices through the chatter like steel. At 21, she is ... remarkably clear and focused ... not at all the type to be talked into things."
Marie Claire Magazine: "[She comes across as] very much the master of her own fate."
INTJ

Roger Waters
(Pink Floyd)
Waters: "I know I can be an oppressive personality because I bubble with ... schemes, and in a way it [is] easier for [others] simply to go along with me."
Waters: "I'm perfectly happy being a leader."
Waters: "I'm not ... comfortable [improvising]. ... I don't really have that skill. ... I'm more into writing, thinking [and] producing."
Official Pink Floyd Bio: "Roger Waters drove the project and the [other band members] ceded their vision to his increasingly personal direction."
INTJ

Jay-Z
Rapper, married to Beyonce
Jay-Z: "[I adopt a] technique and style to make sure that [I reach] as many people as possible without losing [my] basic integrity."
Jay-Z: "For me hustling is the ultimate metaphor for ... the struggle to win and to make sense of it all."
Jay-Z: "It's hard to beat the entertainment value of people ... dying to be insulted, running around looking for a bullet to get in front of."
Zack O'Malley: "People who've spent time with Jay-Z ... note his expansive intellectual curiosity."
INTJ

Patrick Stewart
Actor
Stewart: "[I am compelled by] obsession. Passion. Commitment to one thing."
Stewart: "It does seem that I [am] drawn to [playing] these very driven, obsessed and single-minded individuals."
Stewart: "I haven't actually played very many nice characters. ... It's not a quality that attracts me."
Stewart: "It's especially satisfying ... to play the 'Number One' in anything - kings, princes, prime ministers, dictators. There really is no substitute for sitting in the biggest chair."
The Independent: "[He] is a man of intense statements and giant gestures."
INTJ

Scott Adams
Cartoonist famous for 'Dilbert'
Adams: "I like to think I'm right and everybody else is wrong."
Adams: "We're a planet of ... six billion ninnies living in a civilization ... designed by a few thousand ... smart deviants."
Adams: "It's useless to expect rational behavior from the people you work with, or anybody else for that matter. If you can come to peace with the fact that you're surrounded by idiots, you'll realize that resistance is futile ... and you can sit back and have a good laugh at the expense of others."
Adams: "[I prefer] working on projects that have a real chance of changing the world. ... I try to have one or more 'change-the-world' projects going at all times."
Adams: "[Donald Trump] strikes me as the confident Dale Carnegie type."
Rob Harvilla: "[He is a] cerebral, idiosyncratic pundit."
About INTJs
Tenacious visionaries, oriented towards action
Somewhat linked to the Schizotypal personality
More common in men than in women
Repress their Extroverted Sensing function, which means they may lose touch with factual realities and fail to adapt their opinions accordingly
INTJ Functions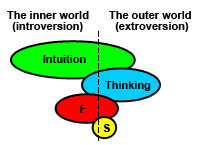 | | |
| --- | --- |
| 1. Dominant: | Introverted Intuition |
| 2. Auxiliary: | Extroverted Thinking |
| 3. Tertiary: | Introverted Feeling |
| 4. Inferior: | Extroverted Sensing |
Even more INTJs
We have over 20 more notable INTJs as part of our extended content

Get access: Learn more

Already a member?