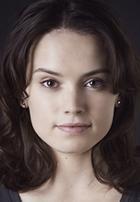 Daisy Ridley Quotes
Quotes by and about Daisy Ridley
(Continued from her main entry on the site.)
[Asked what it's like to have an action figure of herself:]
Ridley: "It's crazy. People keep sending me pictures of it, and I say, 'I know, I've seen it, it's me,' but it's very nice. My sister displays them all over the place but I had to tell her it's absolutely not OK. Narcissism at the extreme."
[On shooting 'Star Wars':]
Ridley: "[J.J. Abrams] is so open to everything, so you try it so many different ways. So there was like infinite possibilities. Honestly, for every scene, there was like maybe 20 to 50 possibilities of what each person could do. Everyone was trying to keep it fresh. Nothing was the same every time we did it."
Ridley: "I was lucky enough to grow up with parents who read all the time and who passed on that love of reading to my sisters and I. It's worrying how many children in Britain, and around the world, can't read. Which is why I look up to the amazing Malala Yousafzai, who is doing the most incredible things for education for young people around the world."
Dawn Cullo: "[For the audition of 'Star Wars' she] showed up an hour early. She was told to leave and come back later ... but still showed up a half hour early."