ESTJ

Uma Thurman
Actress
Thurman: "I think [ass-kicking] is sort of thrilling. ... As a female ... you're taught not to be aggressive."
Thurman: "It gives you a great self-confidence ... to take full responsibility for [your life]. Responsibility gives confidence, I find."
Thurman: "I had to work hard to do the comical [elements] of my roles."
Thurman: "I'm a mother [and] and any parent knows this dynamic: ... You're on the playground and some kid comes over and kicks sand in your kid's face and you're like: 'What do I do now - I want to kill?!'"
[Her martial arts trainer for 'Kill Bill']: "I greatly admire her professionalism and work ethic."
Thurman identifies herself as an introvert.
ESTJ

Lucy Liu
Actress
Liu: "[I like people who] are very direct. They don't beat around the bush. ... It's not that they're impolite. They're just very direct, and they don't have time to mess around. ... I enjoy [that kind] of directness."
Liu: "I don't think if I disagree with someone I'll start [beating] on them! At least not the first or second time. Maybe the third time they're not listening, then the [punches] come out."
Liu: "It's not my job to go around shucking and jiving until everyone realizes what a nice person I am."
The Guardian: "Her best-known role, Ling Woo in the hit TV series 'Ally McBeal', a role the writer created specifically for her, was ... aggressive [and] unemotional."
ESTJ

Emma Watson
Actress
Watson: "I feel like young girls are told they have to be this kind of princess and be all this sweet stuff. It's all bullshit. I identify more with being a warrior princess [and] kicking ass."
Watson: "[Like Hermione] I'm terrified of getting into trouble. I'm very heady in the same way that she is. ... She's very determined. I am as well."
Watson: "I actually wouldn't ever need [a good behavior clause in my contract]. It's just not necessary. I'm not tempted by parties or drugs."
Elle Magazine: "There's something efficient about her, as though life is a big to-do list that needs to be addressed."
Watson identifies herself as an introvert.
ESTJ

Courteney Cox
Actress
Cox: "I'm not a passive person by any stretch of the imagination."
Cox: "You never have to guess where you stand with me."
Cox: "[I'm] very hands-on."
The Telegraph: "For someone so petite, the energy comes XXXL. ... [She is] upbeat and plain-speaking."
Lisa Kudrow: "It was always extraordinary to me that emotion never clouded her professionalism."
The Mirror: "Originally, Courteney auditioned for ['Friends'] and won the part of Rachel. But she felt the character of Monica with her ... need for order was more her."
ESTJ

Alec Baldwin
Actor
Baldwin: "I'm a law-and-order person."
Baldwin: "I've always had a tremendous sense of responsibility - work, work, work."
Baldwin: "[As a child] I was the one who raked the leaves and cut the grass and shovelled the snow and cleaned the dishes. My brothers were like hillbillies. They had no sense of responsibility."
Baldwin: "I'm not afraid of anybody. Wherever I go, I don't have a drop of fear in my whole body."
Baldwin: "I would like to be Governor of New York. That would be exciting to me."
New Yorker: "[His acting has] some beguiling note of severity, even cruelty."
ESTJ

Kelsey Grammer
Actor
Grammer: "[I'm] tenacious to the point where most people just aren't. Honestly, I'm that tenacious."
Grammer: "You show up for [work]! That's what you do. Long run - you work! It's a blessing. ... You show up every damn day."
Grammer: "I prefer adversity that I face head-on."
Grammer: "[Me] directing was simply a matter of time for me. ... I felt very comfortable in that seat. ... I like organizing where the shots are."
Grammer: "I'm brutal when I direct. ... I constantly harass the actor; I beat him down."
Unusually for ESTJs, Grammer also has Dependent traits.
ESTJ

Roger Ebert
Film critic
Ebert: "[My judgment] doesn't involve taste. It involves a deep-seated conviction that [something] is right, has always been right, and always will be."
Ebert: "[I have] a reputation as the fastest writer in town. I'm not faster. I spend less time not writing."
Ebert: "Most Americans don't understand ... that it's the responsibility of the citizen to speak out."
David Eddings: "His wrath, when deployed, is legendary. 'I Hated, Hated, HATED This Movie!' and 'Your Movie Sucks' are two compilations of his [critical] reviews."
ESTJ

Dr. Phil
Psychologist and talk show host
Dr. Phil: "Awareness without action is worthless. Sometimes you make the right decision, sometimes you make the decision right."
Dr. Phil: "Life rewards action."
Dr. Phil: "Life is managed; it is not cured."
Dr. Phil: "If parents aren't united in terms of discipline ... focus, morals, values ... then the child is going to be a product of inconsistency, and that creates confusion."
Pamela Paul: "Dr. Phil issues counsel as marching orders."
Walmond Machesky: "He overcame adversity through setting goals and [he] was persistent in achieving success."
ESTJ

Nancy Grace
Legal commentator and television personality
Grace: "The truth is not always nice or polite or easy. ... Sometimes it's harsh, and it hurts."
Grace: "[As a prosecutor I was] staring down criminals and badgering judges into meting out tough sentences."
Grace: "When I get into an argument on the air, the man can always yell louder [because] if a man fights like hell, he's being forceful; if I raise my voice and fight like hell, I'm being a shrew and a bitch."
Grace: "[I consider myself] an advocate for [innocent] children - their voice in a world that, though essentially good, is embattled by evil."
ESTJ

Jenny McCarthy
Actress and 'Green Our Vaccines' activist
McCarthy: "I always felt like one of the guys."
McCarthy: "I don't say what's on my mind to be charming."
McCarthy: "Do you find yourself coming up with excuses as to why it's not your fault when shit hits the fan? ... How often should you be taking some sort of accountability in situations that occur? I would say, every time."
McCarthy: "There are some moms [like me] that I call black belt moms that will chop through the system. When [they are told that] they can't get an appointment, they're going to get one the next day."
ESTJ

Laura Schlessinger
Talk radio host and conservative commentator
Schlessinger: "I am getting people to stop doing wrong and start doing right."
Leslie Bennett: "In an age of moral relativity, Dr. Laura's certitude compels. ... Schlessinger's fervor is indisputably evangelical, and her listeners believe her to be a paragon, a beacon of hope and rectitude in a dissolute, degraded world."
Keirsey & son identify Schlessinger as ESTJ.
ESTJ

Judge Judy
Television judge and author
Judge Judy: "The main message of my show is that people have to be responsible for their own actions."
[To a young mother:]
Judge Judy: "You have to find something else to do with your time, constructively, rather than make children who are going to grow up with no moral compass like their mother."
Keirsey & son identify Judy as ESTJ.
ESTJ

Daisy Ridley
Actress
Ridley: "I'm quite a together person, and I value the right things."
[Asked if she is worried about being seen as a role model:]
Ridley: "No. If I loved partying it would be more of a concern. ... You see [other actors] say, 'I didn't ask for this,' but I completely see what [my role in 'Star Wars'] might mean to young girls, and ... I take responsibility for that."
Sandy Cohen: "[She has] an idea of how she'd use the Force in real life: She'd move people standing on the wrong side of the escalator. ... 'You have to walk on the left and stand on the right,' she said. 'People [who stand on the left] are so annoying ... so I'd use the Force to shift them over to the right.'"
ESTJ

Ivanka Trump
Television personality, daughter of Donald Trump, stepdaughter of Melania Trump
Trump: "I was always a feminine tomboy. I always dressed like a girl and acted like a boy."
Trump: "I have a tough skin and enough confidence not to worry too much about being underestimated."
Trump: "[I was] a serious young teenager."
Trump: "[I always] go to bed with an empty inbox. ... I feel that going into a day and having your plate cleared is a good way to start out."
About ESTJs
Efficient organizers focused on practical logistics
Strongly linked to the Sadistic personality
Somewhat linked to the Compulsive personality
More common in men than in women
Repress their Introverted Feeling function, meaning they sometimes have difficulty putting themselves into another person's shoes
ESTJ Functions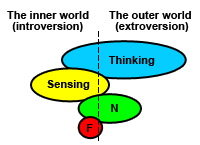 | | |
| --- | --- |
| 1. Dominant: | Extroverted Thinking |
| 2. Auxiliary: | Introverted Sensing |
| 3. Tertiary: | Extroverted Intuition |
| 4. Inferior: | Introverted Feeling |
Even more ESTJs
We have more notable ESTJs as part of our extended content

Get access: Learn more

Already a member?