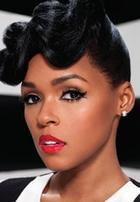 Janelle Monae Quotes
Quotes by and about Janelle Monae
(Continued from her main entry on the site.)
Monae: "I write music [that's] ... about loving yourself even if it makes others uncomfortable."
Monae: "Creative independence is my air, it is my water."
Monae: "I don't think the world should put any pressure on artists to be leaders; it's just been a personal choice of mine. Your heart has to feel propelled to want to be a leader. If that's your calling, you go after it."
Monae: "I want to make sure that I'm living on Dr. King's dream. I feel like it is my job as a descendant of that dream to stand up for other civil rights and human rights."
Monae: "As an artist and as a human rights activist, I feel it's my duty to speak out against any discrimination or marginalization of people who might not have the power to gain control of their rights."
Monae: "We have so many different ways to live marketed to us in the media - what we should look like, what beauty is - and it's so important to embrace the things that make you unique, even if it makes other people uncomfortable. You'll never know whom you'll free by just being yourself - flaws and all."
Monae: "I just think it's so important that at a young age we teach our kids and those whose future we're nurturing that it's OK to love whomever it is that you love and whom you're attracted to - and it's OK to like a dress if you're a boy and to like a pantsuit if you're a girl. These are just fears that previous generations have placed upon us, or people who've tried to control us and make us believe that this is just bad. But I think whenever you stop the true essence of a person loving who they are - the god-given person that they've been blessed to be - that is a crime."
Monae: "I won't allow myself to be a slave to my own interpretation of myself nor the interpretations that people may have of me. I just live my life, and people can feel free to discuss whatever it is that they think and use whatever adjectives they feel. It's a free country."
Monae: "I'm just about love."
Monae: "I like to have fun. I enjoy practical jokes."