ENFJ

Oprah Winfrey
Talk show host
Winfrey: "You create your own reality by the way you think and therefore act. You cannot blame ... your circumstances, because you are not your circumstances. You are your possibilities."
Winfrey: "I am happiest when I feel that people are getting something [from me], learning something, enhancing themselves in a way that they never thought of before."
Winfrey: "[My fame] isn't about me. I am the messenger to deliver the message of redemption, of hope, of forgiveness, of gratitude, of evolving people to the best of themselves."
ENFJ

Charlie Rose
Talk show host
Rose: "[In my work] I wanted viewers to feel like they were eavesdropping on [an intimate] conversation each night."
Rose: "It would be wonderful to become what Oprah has become: She is in such a class of her own. [Like her] I would love to show that television can have soul, depth and range."
Hank Paulson: "He can lure you [in] - hard questions in a soft way."
Financial Times: "[He is a] master at charming his subjects into revealing interesting pieces of information."
ENFJ

Nigella Lawson
TV cook
Lawson: "It's always struck me how we express what we feel about each other through food. Food obviously plays a very big part in many world religions. I think even the most prosaic or fact-led person can't help but feel aware of the symbolic value of food."
Lawson: "I think of myself as a very open person, but I'm also quite self-protective."
Lawson identifies herself as ESFP.
ENFJ

Bono
Singer (U2) and humanitarian activist
Bono: "It's an amazing thing to think that ours is the first generation in history that really can end extreme poverty [but] we let our own pathetic excuses ... justify [us]. We have the ... wealth. What we don't have is the will, and that's not a reason that history will accept."
Bono: "I'm not sure I can be as honest in my life as I can be in my music, because with manners comes insincerity. ... Truth is sometimes difficult."
Paul Du Noyer: "[He is] charm itself. ... He greets you with a warmth you could dry damp clothes against."
Rolling Stone: "Bono gives us a vision of how tomorrow can be better than today. He appeals to something greater than ourselves. ... He speaks about faith in a way that even a non-believer can embrace."
ENFJ

Reese Witherspoon
Actress
Witherspoon: "I've worked so hard to create characters that have dignity. And I think everybody knows that I have a very pro-woman message in my work - and in my life."
Witherspoon: "I get hugged a lot [by fans]. Which is fun. ... I like people. And at the end of the day, we're all just people. ... Nobody's life experience is all that much different than anyone else's."
Marie Claire Magazine: "She can radiate such warmth, charm, and humor ... and yet still maintain her mystique."
ENFJ

Kate Winslet
Actress
Winslet: "My feeling about why I like making films is you can come away from a film feeling so changed and touched. I really love that, the thought that I could be giving people a lot."
Winslet: "I always try and give as much as I can, rather than get as much as I can."
Winslet: "I love that people feel they can approach me."
Anne Hathaway: "I love [Kate Winslet] so much. ... [Watching her I] realize how great she is and how far I have to go."
ENFJ

Helena Bonham Carter
Actress, was married to Tim Burton
Carter: "I enjoy those small chats you have when people come up and talk to you about your work. It only involves a few seconds of effort to be nice to those people, and I am very grateful for the kind words."
Carter: "[When people] think they've got you sussed [that's] actually a very good position to be in. They think they have got you sussed, but you've got plenty of room to maneuver."
Carter: "I grew very frustrated with the perception that I'm this shy, retiring, inhibited aristocratic creature when I'm absolutely not. ... I think I'm much more outgoing and exuberant than my image."
Carter identifies herself as an introvert.
ENFJ

Bradley Cooper
Actor
Cooper: "I try to stay in a place of gratitude every day. In order to do that I think perspective is involved."
Cooper: "I love being in the center of the group, being a part of the group that's [going through a] creative process."
Amy Adams: "He's a very soulful person, a very open person."
Brian Klugman: "There's nobody who's better liked."
ENFJ

Jennifer Lawrence
Actress
Lawrence: "I'm incredibly stubborn ... but I am very maternal too."
Lawrence: "To [others my acting] looks emotionally straining, but I don't get emotionally drained, because I don't invest any of my real emotions."
Lawrence: "I always know when I'm being lied to. ... It's okay to lie sometimes and to exaggerate, but I always know when people are doing it."
Shailene Woodley: "[She] knows how to handle [all the attention] in such an eloquent way."
New York Magazine: "[She] manages to exude a best-friend vibe even at a ... press conference ... with all eyes on [her]."
ENFJ

Dakota Fanning
Actress
Fanning: "The greatest trait in a person is to put other people before yourself."
Fanning: "My job is all about getting inside another person's mind and thoughts."
Fanning: "I like everything perfect. Everything has to be neat. My sister is ... more messy than I am."
Brittany Murphy: "Dakota is a ray of sunshine and obviously wise beyond her years. ... She is so intuitive of other people."
Fanning's results on a Jungian type test score her as ENFJ.
ENFJ

Emma Stone
Actress, dated Andrew Garfield
Stone: "My least favorite type of person is a 'selective asshole' - a person who's a jerk to some people and nice to other people."
Stone: "You see these actors who've been famous for a long time, and they've grown like this rhino skin, emotionally. ... They can't relate to people in the same way anymore. ... They can't emote like they used to. And I never, ever want that to happen to me."
Stone: "[Andrew Garfield is] an incredibly honest guy [and] a deeply feeling individual."
Cody Delistraty: "It seems no one is immune to her ... charm."
Taylor Swift: "If I could be anyone for a day, I'd be Emma Stone."
ENFJ

AnnaSophia Robb
Actress
[Asked what she liked about a character she played:]
Robb: "She has an understanding of human beings. She can sense their sadness, sense that they need somebody, and [then be] that person."
Robb: "I hope [people] think about other people and how they can relate to them."
Robb: "You have to be kind to [other people], talk to them and try to be friends."
ENFJ

Michael Moore
Filmmaker
Moore: "I knew that [those who predicted that no one would see my films] would be wrong because ... I have a sense of where people are in the country."
Moore: "[I have] a strong moral sense of social responsibility."
Moore: "What's great about [films] is the communal experience of sitting in the dark with strangers and viewing something that's going to engage us."
ENFJ

Zack de la Rocha
(Rage Against the Machine)
De la Rocha: "[When I] participated in [activism I] felt more community based. ... I was part of a collective voice and not on my own as an artist. Something about that attracted me."
De la Rocha: "Noam Chomsky's books have helped me understand the nature of globalization and its effect on people and societies throughout the world."
De la Rocha: "I'm speaking toward a deeper sentiment that I feel and I know a lot of people feel. [It has] to do with redemptive moments that come in the face of some real indignity. That's the current that I'm trying to tap into."
Michael Moore: "[Offstage he is] the most gentle of souls you will ever meet. But ... on the stage, a fire erupts that consumes all who listen."
ENFJ

James Lipton
Talk show host
[Asked about the many actors who have started crying during his interviews:]
Lipton: "When you're talking about the thing that is most important to someone, they're liable to feel something strong."
Anthony Hopkins: "James Lipton is the most penetrating and compassionate interviewer I've ever known."
Michelle Pfeiffer: "James creates such a warm environment that you feel as though you're among friends."
ENFJ

Dr. Drew
Physician and talk show host
Dr. Drew: "I want to rescue everyone. ... I'd like everyone to be okay. I'd like to stop the suffering and discomfort in the world."
Dr. Drew: "The only way to get past ... feelings of powerlessness and insignificance is by connecting with other people. ... I advise you to look for opportunities to connect ... and to participate in life."
GQ Magazine: "[In person he is] charismatic ... theatrical, eloquent, and fervent."
ENFJ

Rashida Jones
Actress
Jones: "I look for people with good hearts."
Jones: "I have a need to be right. I am obsessed with a sense of justice in the world."
Jones: "Pop stars: Please stop saying you don't want to be role models. Because, guess what: You are."
Jones: "The way globalization and technology have been used isn't ... for the best. It hasn't brought us closer together. ... It's actually drawn us apart. ... Your responsibility as a human being ... has been lost a little bit."
Jones: "I can be pretty persuasive if I believe in something strongly enough."
Alex Billington: "If everyone ... was half as nice and half as charming as Rashida Jones, the world would be such a better place."
About ENFJs
Engaging and compelling communicators
Strongly linked to the Narcissistic personality
Somewhat linked to the Histrionic and Avoidant personalities
More common in women than in men
Repress their Introverted Thinking function, meaning they may be tempted to exaggerate the truth for effect
ENFJ Functions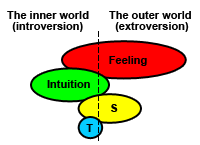 | | |
| --- | --- |
| 1. Dominant: | Extroverted Feeling |
| 2. Auxiliary: | Introverted Intuition |
| 3. Tertiary: | Extroverted Sensing |
| 4. Inferior: | Introverted Thinking |
Even more ENFJs
We have over 10 more notable ENFJs as part of our extended content

Get access: Learn more

Already a member?