The Case for INTP
The BBC Interview, Face to Face, aired 1959, with transcript published in C.G. Jung Speaking, Princeton University Press, 1987:
I most certainly was characterized by Thinking … and I had a great deal of Intuition, too. And I had a definite difficulty with Feeling. And my relation to reality was not particularly brilliant. … I was often at variance with the reality of things. Now that gives you all the necessary data for diagnosis. [pp. 435-6]
So what Jung is saying here is that his Dominant Function is Thinking, his Auxiliary Function is Intuition and his Repressed Function is Feeling. And what he alludes to with the 'relation of reality' thing is of course that he is an introvert. (Jung's introversion has been documented and spoken about in many places besides this interview. For example, in C.G. Jung Speaking pp. 256-7, he acknowledges being an introvert. And there are many other such sections in Jung's writings and interviews.)
The Case for ISTP
However, there is a manuscript prepared in 1926, published in English as Analytical Psychology: Notes of the Seminar Given in 1925. Here Jung identifies as another type:
As a natural scientist, thinking and sensation were uppermost in me and intuition and feeling were in the unconscious and contaminated by the collective unconscious. [Princeton University Press 1991 edition, p. 69]
Likewise, here Jung is saying that Thinking is his dominant function, with Sensation being his auxiliary function. As he claimed to be an introvert all his life, this quote would have Jung identifying himself as ISTP. Now it is necessary to mention that this blurb was written well before the interview quoted above, and that Jung believed that one's type would change throughout life (which we, the admins of Celebrity Types, don't). Nevertheless the possibility that Jung regarded himself as having drifted from ISTP in his younger years to INTP in his mature years can well be excluded by the fact that Jung is talking about his younger years in the 1959 interview. Therefore the only sensible explanation is that Jung held shifting views about his own type.
Of course, both we, the admins, and the bestselling author of Please Understand Me, David Keirsey, also hold what may perhaps be called shifting views about Jung's type in so far as none of us identify Jung as INTP or ISTP, but rather believe his type to be INFJ.
How we arrived at this typing is something which we hope to explain in a forthcoming article.
Update Oct 2012: The following protests have been put to us via email:
Jung did not claim to be an introvert.
Jung did not say that Feeling was his repressed function.
To this, we quote from Jung's Introduction to Jungian Psychology, Princeton University Press 2012 edition:
Mrs. Hicks [to Jung]: "I understood you to mean that you had developed your intuition in contradistinction to your thinking?
Dr. Jung: "No. … [I]nasmuch as as sensation (in the example) is a partisan of the intellect, intuition sides with feeling, here the inferior function." pp. 75-6
This is from the same explanation where Jung identifies as ISTP. So basically, he is saying that Thinking and Sensing are banding together as his two uppermost functions, while Intuition "sides with Feeling", clearly denoted here as the repressed function. As will be seen from the same work, p. 90, Jung says that one "auxiliary" function is less differentiated than the other and that it sides with the repressed function.
ISTP Functions: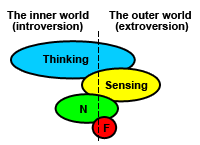 As for Jung supposedly not claiming to be an introvert, we quote from the same work:
"After this break I had with Freud … I found myself completely isolated. This, however disadvantageous it may have been, had also an advantage for me as an introvert." p. 25
And, we might add, there are other places in Jung's works where he describes himself as an introvert as well.