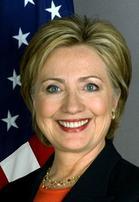 Hillary Clinton Quotes
Quotes by and about Hillary Clinton
(Continued from her main entry on the site.)
[Asked what she enjoyed most about her job as Secretary of State:]
Clinton: "A lot of it is not the headline stuff. It's the slow and steady progress that I think provides a much firmer footing for us."
Clinton: "Probably my worst quality is that I get very passionate about what I think is right."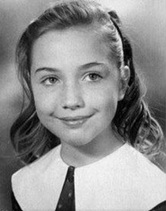 Clinton: "[Already] as a Brownie and then a Girl Scout, I participated in Fourth of July parades, food drives, cookie sales and every other activity that would earn a merit badge or adult approval. I began organizing neighborhood kids in games, sporting events and backyard carnivals both for fun and to raise nickels and dimes for charities."
Clinton: "Sometimes I get very upset and angry if I think that people are doing things that are stupid, or put other people at risk, or are breaking agreements."
Clinton: "My second-grade teacher [challenged] us to write from one to one thousand, a task that little hands holding fat pencils took forever to finish. The exercise helped teach me what it meant to start and finish a big project."
Clinton: "I do believe in ... not being constrained by ideological perspectives that blind us to what we need ... [and in making] pragmatic decisions."
Clinton: "I am someone who hopes for the best and prepares for the worst."
Clinton: "American supremacy was the result not just of military might, but of ... people ... who worked hard and took responsibility."
Clinton: "[I have always] advocated engagement, not disruption or 'revolution.'"
Carol Willis: "Hillary is much tougher than [Bill] is. If he is a dreamer, she is miss Reality."
Elle Magazine: "She tells me she read an article recently about how extroverts gain energy from social interaction, while introverts are drained by it. Clinton says she recognized herself in the introvert. 'When I would work a rope line and people were pulling on me and telling me they were for me and asking me to help them, I was just, 'Okay, okay,' she says, her voice growing distressed. 'My husband works a rope line, and he is sucking the energy out. I mean, part of it is because he's tall and he's not lost in this crowd, feeling enveloped, but some of it is just his personality.' When Bill stepped off a rope line, she says, he'd crow: 'Oh man, that was great!' She, on the other hand, would say, 'Oh my God, I'm so tired' - and be primed for a power nap."
Gail Sheehy: "Hillary becomes obsessed. [When] she has an enemy ... one or the other is going to be killed."
[Paraphrasing Julius Caesar, on the American intervention against Gaddafi:]
Clinton: "We came, we saw, he died."