ENTJ

David Letterman
Talk show host
Letterman: "Nothing, believe me, nothing is more satisfying to me personally than getting a great idea and then beating it to death."
Letterman: "It's hard to orchestrate anarchy every night."
Letterman: "There are responsibilities greater than individual feelings in life."
Letterman: "Emotionally I'm very immature."
Leslie Moonves: "He has one of the best work ethics of anybody I've ever been in business with. ... That's the way he's built."
ENTJ

George Clooney
Actor and filmmaker, married to Amal Clooney
Clooney: "Directing is really exciting. At the end of the day, it's more fun to be the painter than the paint."
Clooney: "No one wants to hear you complain."
[Julia Roberts: "You work ten times harder than I do."]
Clooney: "I don't have a family. [Work] is my family."
ENTJ

Michael Douglas
Actor and producer
Douglas: "I like to work fast. I like to keep moving forward."
Douglas: "[If you get the vision settled] upfront, the following [through] will only be about execution, and a much more enjoyable process."
Douglas: "I'm a current-events guy, I'm a non-fiction reader, and I like to deal ... with whatever issues ... affect modern man."
Kirk Douglas: "[He] had a hatred and contempt for the world of entertainment when he was growing up; I thought he might make a good lawyer."
David Fincher: "One of the great gifts of working with Michael Douglas is that ... he sees the overview ... a lot clearer than you do. [He doesn't get] bogged down in minutiae."
ENTJ

Penn Jillette
Entertainer, partner of Teller
Jillette: "[Juggling] is very much in line with my heart. ... Juggling is very, very straightforward; very, very black and white; you're manipulating objects, not people. And that's always appealed to me."
Jillette: "Everybody [should be] busted on their bullshit all the time because I think that's the way we get to truth. That is also what respect is. ... What we call 'tolerance' is often just condescending."
Jillette: "I never wanted to be a comedian. I never wanted to be on stage."
ENTJ

Charlize Theron
Actress
Charlize Theron: "I love the feeling of being in charge."
Theron: "I am definitely attracted to characters that [are] tough, and you have to break through that exterior."
Theron: "[To be a model] wasn't ... satisfying for me because I like to say what's on my mind."
Theron: "I don't think I'm a natural performer."
[Asked if sexism among Hollywood screenwriters is to blame for the lack of nuanced roles for women:]
Theron: "That's all bullshit. ... If there's a demand [from the audience, the screenwriters] will deliver it."
Paul Haggis: "She has this Kate Hepburn quality: One of the guys."
Woody Allen: "Charlize is a force of nature ... with crushing sex appeal."
ENTJ

Katharine Hepburn
Actress
Hepburn: "[Success comes from] finding out where you went wrong and correcting it."
Hepburn: "Each of us has to learn responsibility. ... Here we are. Live up to your potential."
Hepburn: "I have brains ... and a handy head of common sense."
[Her father:] "I can only compare her to a young bull about to charge."
Kenneth Tynan: "Her aggressiveness is that of the sun at high noon."
[Looking back on her roles:]
Hepburn: "I [was] always the same. I had a very definite personality and I liked material that showed that personality. ... So, was I an actor? I don't know."
Anthony Hopkins: "[She was] tough [and] very formidable. She was opinionated about everything."
ENTJ

Tea Leoni
Actress
Leoni: "Acting doesn't feel good. It's not comfortable to feel all this stuff, it's not!"
Leoni: "I don't find glamour and clothing relevant."
Leoni: "[Casting directors have told me I am] too edgy, too tough, too tomboy, too strong."
Leoni: "[Woody Allen and I] have great chemistry."
New York Times: "She has a quietly forceful way of speaking, words marching out of her mouth in husky cadences that bring Katharine Hepburn to mind."
ENTJ

Adele
Singer-songwriter
Adele: "I'm a big personality. I walk into a room, big and tall and loud."
Adele: "I was a thick-skinned girl from a very young age."
Adele: "'The Godfather' is my favorite film."
Adele: "I have absolutely no intention of going into acting or making perfumes. ... I will stick to what I am good at and not spread myself thin and become mediocre at everything I do."
Adele: "In my relationships I'm never very good at saying how I feel and talking about it, even if they are and they try and bring it out with me."
[Interviewer:] "When [I order a glass of white wine and] the waitress asks what kind and I hesitate for a moment, Adele jumps in with a funny/charming/controlling burst of impatience and orders for me."
ENTJ

Cobie Smulders
Actress
Smulders: "I've always been one of the guys."
[On being a model:]
Smulders: "I didn't enjoy making a living off of how I look, so I bowed out."
About ENTJs
Efficient organizers focused on strategic optimization
Strongly linked to the Compulsive personality
Somewhat linked to the Sadistic personality
More common in men than in women
Repress their Introverted Feeling function, meaning they sometimes forget what is important to them
ENTJ Functions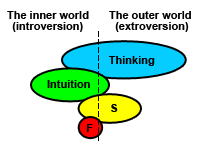 | | |
| --- | --- |
| 1. Dominant: | Extroverted Thinking |
| 2. Auxiliary: | Introverted Intuition |
| 3. Tertiary: | Extroverted Sensing |
| 4. Inferior: | Introverted Feeling |
Even more ENTJs
We have over 10 more notable ENTJs as part of our extended content

Get access: Learn more

Already a member?