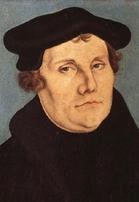 Martin Luther Quotes
Quotes by and about Martin Luther
(Continued from his main entry on the site.)
[Responding to one of his critics:] Luther: "Perhaps you want me to die of unrelieved boredom while you keep talking."
[Responding to another of his critics:] Luther: "You should not write a book before you have heard an old sow fart; and then you should open your jaws with awe, saying, 'Thank you, lovely nightingale, that is just the text for me.'"
Luther [to Erasmus:] "Do not think that I [argue] more according to my temper, than according to my principles. I will not suffer it to be insinuated."
Luther: "Whoever teaches differently from what I have taught ... condemns me thereby."
Luther: "I know neither caution [nor] respect. ... I am ... fierce, cynical [and] fearless."
Luther: "[There] is a power in the human will by which a man may apply himself to [grand] things."
Luther: "[When examining a thing] one must either look at the worthiness or the consequence."
Luther: "I pour contempt upon princes and rage highly against [even] the highest on this earth."
Luther: "You are not only responsible for what you say, but also for what you do not say."
Luther: "The gospel cannot be truly preached without offense and tumult."
Luther: "They say that some [of my] articles are heretical, some erroneous, some scandalous, some offensive. The implication is that those which are heretical are not erroneous, those which are erroneous are not scandalous, and those which are scandalous are not offensive. What then is this, to say that something is not heretical, not scandalous, not false, but yet is offensive?"
Luther: "I demand that they show absolutely ... distinctly and not confusedly, certainly and not probably, clearly and not obscurely, point by point and not in a lump, just what is heretical [in my writings]. Let them show where I am a heretic, or dry up their spittle."
Luther: "I am not cast down by the hostility of the masses. In fact, the more they rage the more I am filled with the spirit."
Luther: "Not until I am gone will they feel Luther's full weight."
Luther: "I [am] slave to the authority of no one."
Luther: "[To] displease many is to be counted among the good things in life."
Roland H. Barnton: "An eyewitness has left us a description of [Luther]: ... 'A perfect forest of words and ideas stands at his command. He is affable and friendly, in no sense dour or arrogant. He is equal to anything. In company he is vivacious, jocose, always cheerful and gay no matter how hard his adversaries press him. Everyone chides him for the fault of being a little too insolent in his reproaches and more caustic than is prudent for an innovator in religion or becoming to a theologian.'"
Erasmus of Rotterdam: "I can never sufficiently wonder at the violent spirit which he has displayed in his writings. ... Many indeed of his teachings and exhortations are excellent, but I wish that he had not spoiled the good in his writings by his intolerable manner."
Markus Wriedt: "To some he was a ... genius [and a] hero. Others saw ... him [as a] destroyer."
Markus Wriedt: "His reflection on his own thoughts went far beyond the usual measure."
Markus Wriedt: "As much as he favored reliable and clear statements ... [he] was not ... systematic. He did not develop his teachings ... logically arranged and secured to all sides."
Marcus Wengstrom: "[His] intellectual brutality and ferocity [is unsuited] to the delicate taste of the drawing room."
Marcus Wengstrom: "Not to be [intellectually] violent would have been not to be in earnest for him."
Luther and Islam
Luther: "I must [translate the Qur'an] into German so that every man may see what a foul and shameful book it is."
Luther: "One is able to do nothing more grievous to Muhammad ... than to [translate his] Qur'an ... [so] that people may see how entirely cursed, abominable, and desperate a book it is."
Niall Ferguson: "No author benefited more [from the invention of the printing press] than Martin Luther, not least because he saw the potential of [the new invention as well as] writing in the vernacular rather than Latin."
Herbert David Rix identifies Luther as an example of the Manic-Depressive personality and as having Paranoid traits.