ISTJ

Robert De Niro
Actor
De Niro: "You don't just play a part. You've got to earn the right to play it."
De Niro: "As a kid I didn't root for the bad guys."
De Niro: "I certainly know the difference between right and wrong."
De Niro: "The hardest thing about being famous is that ... in a conversation everybody's agreeing with what you're saying. ... You need people who can tell you what you don't want to hear."
Matt Damon: "He's famous for being obsessive about details."
ISTJ

Sean Connery
Actor
Connery: "[James Bond's qualities of] self-containment, his powers of decision, his ability to carry on through till the end and to survive ... I like to think I acquired them before Bond."
Connery: "Ever since the introduction of psychoanalysis there have been too many terms to excuse behavior and phrases that can be [used] to explain everything."
Tom Clancy: "Sean Connery was a most agreeable gentleman. ... I was most impressed with him. Good guy." [Upon meeting Connery in 1989.]
Connery identifies himself as an introvert.
ISTJ

Morgan Freeman
Actor
Freeman: "I don't care who [someone] is. ... You know your job, I know mine, let's go do it."
Freeman: "I can only be so long without work before I start getting antsy."
Freeman: "Work is refreshing ... work is pleasant. The more the better. Lying around ... is debilitating."
Robert Benson: "You cannot act moral fiber, or a certain kind of stature - you either have it or you don't. [Freeman] truly has that quality."
Interview Magazine: "Shrewd, grave, and authoritative, Freeman is one of the most reliable presences in American cinema."
ISTJ

John Malkovich
Actor
Malkovich: "Real stars are [the] people who work in a factory and instill good values in their children."
Malkovich: "I have never been someone who was so ... intent on the future that I couldn't live in the present."
Malkovich: "Unlike ... people who [improvise] I'm a plodder. ... I go and I show up every day ... and it works its way into me."
Malkovich: "I've got a reputation as a cold [intellectual]. But nothing could be further from the truth. ... People confuse roles I play with me."
New York Observer: "[In person he] comes across ... as ... laconic ... understated [and] sincere. ... He's nothing like the characters he has played."
ISTJ

Elizabeth II
Queen of England, mother of Prince Charles
Elizabeth: "There is nothing quite like the family gathering in familiar surroundings [and] in the traditional atmosphere of love and happiness that springs from the enjoyment of simple well-tried things."
Elizabeth: "Many grave problems and difficulties confront us all, but with a new faith in the old ... beliefs given us by our forefathers ... I know we shall be worthy of our duty."
Christopher Hitchens: "I will [grudgingly] admit that the present queen of England is a person of ... integrity."
Keirsey & son identify Elizabeth as ISTJ.
ISTJ

Christopher Lee
Actor
Lee: "We live in an age of decline. Look at the world. There is decline in morals, ideals, manners, respect ... just about everything, in fact."
Lee: "The problem today ... is that there are ... very young men and women ... playing very large parts in huge films and they simply ... don't have the ... experience ... to pull it off."
Lee: "[Retirement] is not for me. I hate being idle."
Lee: "I don't say things to the press that aren't true. It [does not] happen ... with me."
Lee: "[When I played Dracula it was] the only time [someone portrayed] the character exactly as Bram Stoker described him."
ISTJ

Jamie Hyneman
Host of 'MythBusters' along with Adam Savage
Hyneman: "Take ... responsibility for yourself. ... Self responsibility is a big, big thing as far as being able to maintain ethical behavior goes."
Hyneman: "I had no ambition to be on stage. As a person, I pretty much am who I seem to be on television; I'm a little bit deadpan."
Hyneman: "I don't want an average person making important decisions. ... People who are in charge of making decisions [should] have some credentials for being given the responsibility. If you want to drive a car, you need a driver's license."
Blast Magazine: "Jamie has a calm, no-nonsense attitude, and a tendency to grumble at anything he considers silly or unnecessary."
ISTJ

Nick Offerman
Actor, married to Megan Mullally
Offerman: "There's a lot of common sense ... which I feel like we have lost touch with."
Offerman: "Stand up for your principles and be loyal to your friends and family."
Offerman: "I always had a lot of confidence in my work ... but [other than that] I'm not a huge dreamer."
Amy Poehler: "When all the shit goes down and the world's about to end, Offerman would be a guy I'd want by my side."
Megan Mullally: "He's just a solid human being."
ISTJ

Natalie Portman
Actress
Portman: "I'd rather be smart than a movie star."
Portman: "I always liked school."
Portman: "[As a child] I was good at working with adults."
Portman: "I had a fashion designer tell me that when I wear a dress of his, it sells out across the country. ... It made me sad, because I want to be an influence in ways other than by [wearing] a pretty dress."
Portman: "I don't mean to criticize anyone. ... I think people should have fun, and have a good time, and enjoy the luck that we have to be lazy and dwell in consumerism. But ... it's a balance. ... I just think it's an important thing to engage in the world."
ISTJ

Rivers Cuomo
(Weezer)
Cuomo: "I believe in finishing what I started."
Cuomo: "[While] I like to explore new territory, deep down there's a piece of me that stays pretty consistent."
Cuomo: "I really am a homebody. I like having a wife and a kid and coming home every day for dinner and doing [household] tasks."
Cuomo: "I [did not] set out to do a fun band. [I am] really serious [about my music] and somehow that works."
Rolling Stone: "[He maintains] an elaborate ... spreadsheet that catalogs all the songs he's written. [Presenting it] he seems more excited about the spreadsheet than the prolificacy it documents."
Gavin Edwards: "He [comes across] more like an engineer than the lead singer of a band."
ISTJ

Matt Damon
Actor
Damon: "I'd had people say, 'You'll enjoy being famous for a week, and you'll never enjoy it again.' But I don't think I had that week. I may have been working and missed that moment."
Damon: "Your decisions here on earth matter, your behavior matters, and how you treat other people matters. ... It ... comes down to accountability for your own behavior [and] that's important."
Damon: "[I appreciate people who] take [their work] very seriously and who [exhibit] discipline and commitment."
Damon: "[In Hollywood there are people who are] famous for ... 10 minutes. Real careers take a long time to unfold."
ISTJ

Danica McKellar
Actress and author of math textbooks aimed at girls
McKellar: "I want to give girls a positive role model when it comes to being smart."
McKellar: "Almost every single section [in my books] has a real-life application. ... [I'm] putting girls in situations that they might actually experience in their lives."
About ISTJs
Thorough and responsible administrators
Strongly linked to the Compulsive personality
Somewhat linked to the Schizoid personality
More common in men than in women
Repress their Extroverted Intuition function, meaning they sometimes resist change and view ingenuity with skepticism
ISTJ Functions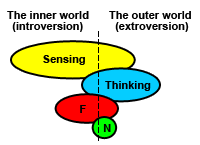 | | |
| --- | --- |
| 1. Dominant: | Introverted Sensing |
| 2. Auxiliary: | Extroverted Thinking |
| 3. Tertiary: | Introverted Feeling |
| 4. Inferior: | Extroverted Intuition |
Even more ISTJs
We have more notable ISTJs as part of our extended content

Get access: Learn more

Already a member?