INTP

David Cronenberg
Filmmaker
Cronenberg: "I try to make things clear; I never try to make things deliberately ambivalent or cloudy."
Cronenberg: "I'm [not] looking in fear at science ... and worrying about where it's leading us. That's not the way I feel about it at all. I feel an incredible empathy for the process of science."
Andrew O'Hehir: "[Cronenberg] is a genuine intellectual. ... It'd be easy to imagine him as a writer or philosopher or historian."
Peter Garrett: "[He] is a cheerful, deep-thinking, mild-mannered college professor type."
Sam Maronie: "He is modest [and] in many ways ... his own worst critic."
INTP

Jesse Eisenberg
Actor, dated Mia Wasikowska
Eisenberg: "I can't exist in normal group situations ... where you have to ... jockey for position. I ... just withdraw."
Eisenberg: "[I became an actor through a] series of really weird events. ... I don't think I ever would've tried to be an actor."
Eisenberg: "[When] acting, then there's a prescribed way to behave; whereas in life there's no prescribed way. So acting [is] a comfortable way to get through the day."
Eisenberg: "When I was acting in a play I liked knowing my place - that I was this role, and other people were that role, and we could interact with each other in a way I felt was very clear to me."
Stephen Whitty: "His characters usually have a few things in common. They're extremely bright [and] yet they often seem more than a little confused about what people around them expect, emotionally."
INTP

Charlotte Gainsbourg
Actress and singer
Gainsbourg: "I didn't [try] to become [a performer]; it just happened when I was really young and then continued."
Gainsbourg: "I've never thought of myself as being an actress or being a singer. I'm uncomfortable with both."
Gainsbourg: "Everything that [deals with] being isolated I've felt very close to. ... Isolation [is] something ... that I understand well."
Gainsbourg: "It's normal to judge yourself and to be your own worst critic. It keeps you in a kind of reality."
Gainsbourg: "Self-questioning is my method."
INTP

Sigourney Weaver
Actress
Weaver: "[In my youth] I was very shy, very self-conscious. I didn't even decide to be an actress until [people] kept hiring me. I kind of backed into it."
[On her choice of characters:]
Weaver: "I've always been drawn to women who aren't very comfortable in the world. Who are isolated."
Weaver: "Have I ever doubted myself? Have I ever not?"
Weaver: "I feel self-doubt whether I'm doing something hard or easy."
Weaver: "Most [directors] didn't know what to do with me, so I ended up working with Ridley Scott and James Cameron. People who didn't much care for convention."
INTP

Tina Fey
Comedic writer and actress
Fey: "Comedy is only funny when it is telling the truth."
Fey: "I live every writer's fantasy of being mostly a writer, but getting to be on TV just a little bit to get acknowledgment for being a writer."
Fey: "Being a good boss means hiring talented people and then getting out of their way."
Amy Poehler: "[She doesn't] belly-flop into the pool at the pool party. She watches everybody else's flops and then writes a play about it."
Alec Baldwin: "She's so bright you're always wondering if you're boring her."
INTP

Asia Carrera
Adult film actress and member of Mensa
Carrera: "The more I learned about the histories of organized religion, the more convinced I became that people are extremely gullible, and that I need to get off my ass and start a religion of my own!"
Carrera: "[I am one of the guys when it comes to] gaming or computer skills, or even just all-around geekiness."
Carrera: "[My hobbies include] studying Wall Street and quantum physics."
Carrera: "I don't have a TV, and I don't party or socialize."
INTP

Ben Stein
Game show host and writer
Stein: "I am, by nature, a tourist everywhere I go, especially at home, and I spend much of my time and energy analyzing what I observe."
Stein: "In my life, I am cursed ... by a habit of categorization. I see some examples, make a hypothesis based upon them, test that hypothesis, and if it works, I adopt it as a predictor and explainer of the human condition."
Stein [to the host on FOX News:] "You are doing the classic post hoc ergo propter hoc fallacy."
George Miller: "His past is actually tightly woven with higher education, academia, and law. In fact, his personal history reads much more like a tenured professor's than a former game-show host."
Unusually for INTPs, Stein also has Antisocial traits.
INTP

Andreas Scholl
Countertenor
Scholl: "This is always a question for each singer to answer for himself. What do I stand for? What are my ideas? What am I doing?"
Scholl: "Some people ask me: 'Don't you feel limited by [only] singing Renaissance and Baroque music?' Well, [I reply] that is most of [the music] till this very day!"
Scholl: "[I am German in the sense that] Germans are known to be very self-critical and not too enthusiastic about themselves. ... We are not over-confident or praising ourselves too much."
INTP

Glenn Gould
Pianist
Gould: "I would like to see a world where nobody cared what anybody else was doing - in which ... group-think ... disappeared."
Gould: "I find it very depressing to hear about situations in which [competition and imitation] rule creativity. I can't think of anything less important."
Gould: "[In my favorite music] all of the extroversion, all of the superfluous excitement is gone."
Gould: "All of the subjects that I've chosen have had to do with isolation. ... The whole idea of [people] gathering ... doesn't really appeal to me."
INTP

Richard Ayoade
Actor and director
Ayoade: "It feels completely inappropriate to try to persuade people to see [my movies]. It feels like lobbying for your own exam results."
Ayoade: "I [find it] odd when people go, 'I worked very hard for this and I deserved it,' because lots of people work very hard and deserve things, so [it] seems somewhat self-aggrandizing, as though you have complete command over your destiny."
Ayoade: "[The way I got into acting] was largely accidental."
Ayoade: "I really like Matt Stone and Trey Parker's stuff. Anything they do is great."
The Guardian: "Ayoade is big on suggesting that everything that's happened to him has happened by accident, or at least by default, never by design."
INTP

Randall Munroe
Cartoonist famous for 'xkcd'
Munroe: "Noticing when the stoplights are in sync, or calculating the length of your strides between floor tiles - normal people notice that kind of stuff, but a certain kind of person will do some calculations."
Munroe: "I go to goth clubs dressed as a frat guy so I can stand around and look terribly uncomfortable. At frat parties I do the same thing, but the other way around."
About INTPs
Abstract-minded systems analysts
Strongly linked to the Schizotypal personality
Somewhat linked to the Schizoid personality
More common amongst men than amongst women
Repress their Extroverted Feeling function, meaning that they may have difficulty emoting and figuring out what others need from them emotionally
INTP Functions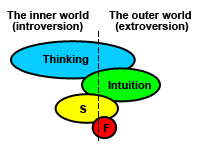 | | |
| --- | --- |
| 1. Dominant: | Introverted Thinking |
| 2. Auxiliary: | Extroverted Intuition |
| 3. Tertiary: | Introverted Sensing |
| 4. Inferior: | Extroverted Feeling |
Even more INTPs
We have over 30 more notable INTPs as part of our extended content

Get access: Learn more

Already a member?