ESFJ

Harry S. Truman
U.S. President (D)
Truman: "I like to live and do things for people and think of the other fellow's troubles instead of my own."
[On his socializing with White House employees:]
Truman: "The rule around here is that [employees may not] speak to the President. I break it every day and make 'em speak to me."
Truman: "To tell the truth [about my childhood] I was kind of a sissy."
Truman: "I like people and like to help 'em and keep 'em out of trouble when I can."
Truman: "I wonder why nearly everyone makes a father confessor out of me."
Keirsey & son identify Truman as STJ.
ESFJ

Gerald Ford
U.S. President (R)
Ford: "[During my presidency] there has been a restoration of faith and confidence and trust ... because I have been open, candid and forthright."
Ford: "[When a] person knows that he disappointed you, [rubbing] it in makes it ... impossible to get his cooperation."
Ford: "It's ... the ordinary, the straight, the square, that accounts for the great stability and success of our nation."
Steven J. Rubenzer: "Ford liked to keep everything in its place [and] did not overcomplicate issues."
Brian Schwartz: "Gerald Ford very much resembles Harry Truman."
Keirsey & son identify Ford as ESFJ.
ESFJ

Colin Powell
U.S. general and Secretary of State (R)
Powell: "Leadership is all about human connections. It's all about conveying to the followers that you believe in them ... and that we are all in this together."
Powell: "Loyalty is a trait that I value, and yes - I am loyal."
Powell: "I will take care of you, you will take care of me, we will sacrifice for one another. That's what keeps a military unit bonded together."
Powell: "The closer [soldiers] are to danger, the more closely they work together, and the more they become a family."
Powell: "[I am] always being amazed at the resilience that comes out of the heartland of the country, out of the people of the United States."
ESFJ

Francis
Pope
Francis: "Get to know each other, listen to each other and improve our knowledge of the world."
Francis: "I'm so grateful to my father for making me work [at age 13]. ... Work anoints a person with dignity."
Francis: "[We should start] from ... where we are. That means being able to do the little things of every day with a big heart open to ... others. That means being able to appreciate the small things."
Francis: "[I want to have] dialogue with all ... simple piety, a certain naivete. ... [To be] available straight away ... [and to be] gentle and loving."
America Magazine: "[He has a] smile that opens hearts."
ESFJ

Andrew Carnegie
Industrialist and philanthropist
Carnegie: "[One should] be gentle in tone and manner [and] polite and courteous to all."
Carnegie: "[When] speaking ... make yourself perfectly at home before your audience, and simply talk to them, not at them."
Carnegie: "I determined that the proper policy was 'to put all good eggs in one basket' and then watch that basket."
[His wife:] "[He was] always patient, considerate, cheerful, grateful for any little pleasure or service, never thinking of himself."
[His assistant:] "Carnegie's sunny personality radiated warmth and light [and] he loved to find his own joy of living reflected by those about him."
ESFJ

Sam Walton
Founder of Walmart
Walton: "I'm a friendly fellow by nature."
Walton: "One person seeking glory doesn't accomplish much; at Wal-Mart, everything we've done has been the result of people pulling together to meet one common goal - teamwork."
[Walmart employee #1:] "He took a genuine interest in all of us."
[Walmart employee #2:] "He was the most down-to-earth, natural guy to talk to."
[Walmart employee #3:] "He really cared. He really listened."
Keirsey & son identify Walton as ESFJ.
The American Counseling Association identifies Walton as ESTJ.
ESFJ

Andy Rooney
Journalist, talk show host and author
Rooney: "The best [thing a] writer can do is put [a familiar] idea in words. ... This produces the warm bond between reader and writer that they're both after because it feels so good."
Rooney: "Pride in family, pride in teammates, pride in hometown [and pride in country] bring out the best in groups of people."
Rooney: "All men are not created equal but should be treated as though they were."
Rooney: "Don't rule out working with your hands. It does not preclude using your head."
Rooney: "We need people who can actually do things. We have too many bosses and too few workers."
ESFJ

John Boehner
U.S. Congressman (R) and Speaker of the House
Boehner: "I'm what you'd call a regular guy with a big job."
[Asked about his job as a salesman:]
Boehner: "I was the most straightforward salesman there was. I wanted to get my cards on the table as quickly as I could and encourage the guy across the table to put his cards on the table [as well]."
[High school football coach:] "He was ... a compassionate and caring team player."
Sabrina Eaton: "Boehner has perfected the art of disagreeing without being disagreeable."
ESFJ

Sarah Palin
U.S. Governor and vice presidential candidate (R)
Palin: "I'm just one of many moms who will say an extra prayer each night for our sons and daughters going into harm's way."
Palin: "We need leaders who will stand up for the little guy and listen once again."
Palin: "Each of us knows that we have an obligation to care for the old, the young and the sick. We stand strongest when we stand with the weakest among us."
ESFJ

Rick Santorum
U.S. Congressman and presidential candidate (R)
Santorum: "I'm very comfortable that I've got a record that is exactly in line with the people of my state."
Santorum: "I'm the steady guy. I'm the guy that's going to be there every day saying the same thing, going out there and fighting for the [same] convictions ... that I practice in my life."
Santorum: "Newt Gingrich is a brilliant guy who has tons of ideas. The issue is discipline."
ESFJ

Joachim von Ribbentrop
Foreign Minister of Nazi Germany
Ribbentrop: "[Hitler] could be very friendly and affectionate towards me one day, and then the next time I met him he could criticize me. ... I was his most loyal follower and his accusations hurt me."
Ribbentrop: "Sometimes tears came to my eyes when I was with Hitler and he told me of all the good things he would do for the people - vacations, highways, new public facilities ... and the like."
Francis Starke: "Ribbentrop loved costume [parties] and [ten-step] dancing. ... He would dance with anybody."
Eric A. Zillmer: "[At the Nuremberg Trials] the psychological test profiles on Ribbentrop [came out] quite ordinary."
At the Nuremberg Trials, Ribbentrop's IQ was tested to be 129.
About ESFJs
Concerned and supportive people persons
Strongly linked to the Compulsive personality
Somewhat linked to the Narcissistic and Dependent personalities
More common in women than in men
Repress their Introverted Thinking function, meaning they may over-align with public opinion
ESFJ Functions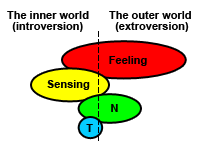 | | |
| --- | --- |
| 1. Dominant: | Extroverted Feeling |
| 2. Auxiliary: | Introverted Sensing |
| 3. Tertiary: | Extroverted Intuition |
| 4. Inferior: | Introverted Thinking |
Even more ESFJs
We have more notable ESFJs as part of our extended content

Get access: Learn more

Already a member?