INFJ

Lars von Trier
Filmmaker
Von Trier: "I take a lot of responsibility, practically no matter who I'm with. Even for an interview to go well. ... I am very polite and well-mannered. Pretty shy of conflict, actually. ... But deep down I don't like my polite side."
Von Trier: "[Disparaging people] has become a hero role [to me] where I think I do it on behalf of what I believe to be just."
Von Trier: "[Hitler]'s not what you would call a good guy, but I understand much about him, and I sympathize with him a little bit."
Von Trier identifies himself as having Antisocial traits.
INFJ

David Fincher
Filmmaker
Fincher: "[The plots of] my movies are fairly obvious. [But the characters] process the information from [a] singular, subjective point of view. And that becomes the subtext."
Fincher: "As much as people pretend [to] fit in ... there [is] always ... that sense of loneliness ... of not fitting in or being out of depth."
Lynn Hirschberg: "In Fincher's version of the world, the heroes often fuse with the villains, creating ... ambiguity."
Scott Rudin: "He's capable of taking any point of view and dismantling it until he comes to the conclusion that, for him, makes perfect sense."
INFJ

Leonard Cohen
Singer-songwriter
Cohen: "[My songs] have to have [a] kind of balance of truth and lies, light and dark."
Cohen: "I think that we have a natural affinity for each other and we are all deeply connected, but we get into this illusion that we are separate, alone, abandoned. This ... produces suffering."
Cohen: "We have to transcend the side we're on and understand that we are creatures of a higher order."
The Telegraph: "[He has] gentle humility and [a] gentlemanly poise ... openness and kindness to strangers, and [a] fantastic eloquence, wisdom and humor."
INFJ

Marilyn Manson
Singer, was married to Dita von Teese, dated Rose McGowan and Evan Rachel Wood
Manson: "I have the idealism to start a revolution."
Manson: "The name Marilyn Manson [is about] male and female, beauty and ugliness. ... It's about the paradox [and] diametrically opposed archetypes."
Manson: "I incorporate a lot of philosophies into what I'm about, including Christianity. ... I try to open people's minds to [the fact that] there are different ways of looking at things."
Manson: "I'm definitely very shy. People believe that artists are extroverted ... but that is not true in all cases."
INFJ

Al Pacino
Actor
Pacino: "You don't want to say the wrong thing. I've seen [people] hurt for years over something that was unnecessary and didn't have to be said."
Pacino: "I see good and bad in all of us."
Pacino: "My first language was shy. It's only by having been thrust into the limelight that I have learned to cope with my shyness."
[Asked if he is gentle at heart:]
Pacino: "There are times when I have a temperament. Yes, my temperament is there ... but I hope I'm gentle. Yes, I think I am."
The Guardian: "[He has] tremendous gravitas [and] he's incredibly polite."
Pacino identifies himself as an introvert.
INFJ

Daniel Day-Lewis
Actor
Day-Lewis: "My chief goal is to find a way to make [what I do] meaningful to other people."
Day-Lewis: "Very often there's this misapprehension about actors being people that need to display themselves, to reveal themselves in public. The paradox is that very often it's the sense of losing yourself in that public situation which is the drug."
Day-Lewis: "It's very hard to explain [what I do], even to myself. It's a paradox. Given the chance to enter into areas of one's soul ... there's great joy in the exploration of that."
Time Magazine: "Day-Lewis is a bit shy and soft-spoken in person - endearingly so - but warm and affable and exquisitely courteous."
New York Times: "His demeanor is courtly ... [and has] a quality of grace."
INFJ

Edward Norton
Actor, dated Salma Hayek
Norton: "[I] project myself into the given circumstances by using my ... empathic talent ... for understanding how other people express their emotions."
Norton: "Everybody goes through certain experiences and, if you're lucky, even with the worst things, you come out of them and they induce in you an altered perspective on the relative importance of things."
[On the book 'Mountains Beyond Mountains':]
Norton: "Here was someone with no ambition for fame or money. His ambition is to fundamentally change the way people look at the most intrinsic problem - poverty and health. I came away from the book feeling it had vaulted him to the ranks of the Gandhis and Martin Luther Kings. You read that and you go, 'What the hell am I doing with my life?'"
INFJ

Adrien Brody
Actor
Brody: "I've spent a lifetime understanding and connecting to emotions - not only my own, but [those of] other people."
Brody: "I [enjoy] creating illusions and pulling the wool over people's eyes."
Brody: "[Acting] is definitely the closest thing to a real spiritual experience that I can describe. It's like I connect to the emotional state of another being that's other than my own and that is very freeing."
Brody: "A little bit of attention and kindness can totally change a whole life, and a lack of that can do the same."
The Observer: "[He is] highly empathic."
INFJ

Cate Blanchett
Actress
Blanchett: "I think it's a myth that actors are all extroverts. I don't think that's true. I think something happens in those five seconds before you walk on stage."
Blanchett: "[I am] observant of other people's emotional states."
Blanchett: "[When my father died I saw] it from other people's perspective. I could see that my sister was so young, and I felt it was tragic that she might not remember him. I could see how it affected my brother [and] I saw what a struggle it was for my mother. I [thought] about my father and how sad it was that he never had grandchildren."
[On Hollywood:]
Blanchett: "I don't exist in that world. I observe it."
Vanity Fair: "She is cordial and cooperative."
INFJ

Michelle Pfeiffer
Actress
Pfeiffer: "I always felt a little like an outsider looking in."
Pfeiffer: "There are participants in life and there are observers, and I've always been an observer."
Pfeiffer: "The more prepared I am, the more I'm able to kind of let go."
Pfeiffer: "I'm very stubborn. ... I'm probably at times a bit tunnel-visioned, but I'm strong."
INFJ

Rooney Mara
Actress
Mara: "I have a pretty vivid imagination."
Mara: "I'm kind of obsessive and a perfectionist."
Mara: "I can understand wanting to be invisible and mistrusting people and wanting to understand everything before you engage with the world."
Mara: "I'm someone who overthinks everything and really needs to investigate every part of something before I'm ready to do it."
Mara: "It's easy to let people walk all over you ... because you don't want to be difficult."
Mara identifies herself as an introvert.
INFJ

Carey Mulligan
Actress
Mulligan: "Most of [my characters] have been emotionally articulate."
[Asked if she was a rebellious teenager:]
Mulligan: "I was quite straight-laced [and] academic."
Time Magazine: "[She has] a warm gaze with laser intensity."
The Guardian: "[She is a] watchful Miss Marple in the guise of a limpid ingenue."
INFJ

David Schwimmer
Actor and director
Schwimmer: "I walk through the world as an observer of life and of people."
Schwimmer: "I spend half my time just living my life, and the other half analyzing it."
Schwimmer: "I've got a real dark side. I'm very drawn to darkness. If I were given a choice between two films and one was dark and explored depraved [and] sick aspects of our culture, I would always opt for that."
Rosanna Greenstreet: "Schwimmer's favorite author is Fyodor Dostoevsky."
INFJ

Josh Radnor
Actor and director
Radnor: "Obsessive worry and guilt are universal feelings."
Radnor: "The people in [my] movie have legitimate problems, and they learn to shift their perspective and find grace in the middle of those problems."
Radnor: "I accidentally read [a] book [Alicia Silverstone] gave me ... and that turned me into a vegetarian for about two years."
INFJ

Derren Brown
Magician
Brown: "Each of us is leading a difficult life, and when we meet people we are seeing only a tiny part of the thinnest veneer of their complex, troubled existences."
Brown: "To practice anything other than kindness towards [others], to treat them in any way save generously, is to quietly deny their humanity."
Brown: "I have retained a belief that it is the popular sporty kids at school who grow up to have the least interesting lives, and the unhappy young souls who develop into the most extraordinary adults. ... Hold on, misfits, your day will come."
INFJ

Mystery
Pick-up artist and magician, mentor of Neil Strauss
Mystery: "When I was younger, I was actually an extremely shy person."
Mystery: "The more prepared I [am], the less fear I [have]."
Mystery: "Wouldn't it be nice to have someone in your corner that would remove the weight of the world from your shoulders?"
[Interviewer: "When you start looking at women as 'targets', do you lose any intellectual respect?"]
Mystery: "Do you know what [the women in my life] would do if I talked like that, if I thought like that? They'd kick my ass!"
Jimmy Kimmel: "He is a sexual Yoda."
INFJ

Tilda Swinton
Actress
Swinton: "I find fascinating the question, 'How do we identify ourselves, and how do we settle into other people's expectations for our identity?'"
Swinton: "I think people do what they can. Everyone's doing their best [in life]."
Swinton: "[My character] Gabriel's rationale [is] essentially, 'My job is to get as many souls as possible to heaven, and I have noticed that you are at your most spiritually open when the place is in flames, so I'm going to torch the joint.' It's a beautiful piece of reasoning."
INFJ

Joanna Newsom
Singer-songwriter, married to Andy Samberg
Newsom: "[When] you go through your day ... you can make a decision to be kind, to greet people kindly ... and connect, or you can make a decision to be mean, and every decision you make has these ripples."
Newsom: "[Archetypal elements] come up again and again in [my] songs, but it's not intentional ... [it's] just what I view as an accurate reflection of real life on this planet."
Newsom: "[Uniqueness is the] reconciliation of two or more seemingly incommensurable stylistic elements. That's all art or science can do now; synthesize."
Washington Post: "[Her music is a] wildly ambitious ... lengthy ... stream-of-consciousness reverie."
INFJ

Sufjan Stevens
Singer-songwriter
Stevens: "We all contain multitudes and have the potential for extreme kindness and vengeance at the same time."
Stevens: "There is far greater joy ... in giving than receiving. ... The will of humankind ... contains this boundless capacity for immeasurable generosity and love."
Stevens: "I don't want to get caught up in self-doubt anymore. ... [My] existential conundrums are really circuitous and ... unproductive."
Stevens: "I'm involved in everything I do which isn't always efficient. ... But in that sense, everything I do has a comprehensiveness to it."
INFJ

George Harrison
(The Beatles)
Harrison: "You can be standing right in front of the truth and not necessarily see it. People only get it when they're ready to get it."
Harrison: "If you want to know anything in this life, you just have to knock on the door. [As] I was lucky to find: It's all within."
INFJ

Benedict Cumberbatch
Actor
Cumberbatch: "Our daily lives are so mundane, we get taken over by what is immediately in front of us and we don't see beyond that."
Cumberbatch: "[I try to] be a kinder, considerate person."
Cumberbatch: "I love having context that's so much bigger than I can fathom. It's fantastic to realize how insignificant you are."
Jane Graham: "[He comes across] like a benign, dutiful priest ready to attend. His voice is ... authoritative [and] reassuring."
Elle Magazine: "He's struggling to walk a line between being genuine and people-pleasing ... veering between honesty and courtesy."
INFJ

Jennifer Connelly
Actress
Connelly: "It's ... in my nature to [try to] understand why we are here and communicate with people."
Connelly: "People are really important. And, for me, the connections we have to one another are more important than anything."
Connelly: "I appreciate inconsistencies and contradictions. ... Everyone I know has contradictions in their personalities. I'm absolutely drawn to that."
Vogue Magazine: "She has a regal, almost patrician bearing."
Allure Magazine: "[Her] good manners can be mistaken for cold seriousness."
Ron Howard: "She [is] a person who's not a joiner, who follows her own path. It's not aloofness - that implies a kind of disdain. ... It's [more] of a singular perspective on the world."
About INFJs
Visionaries, oriented toward contemplation
Strongly linked to the Dependent personality
Somewhat linked to the Depressive and Narcissistic personalities
More common in women than in men
Repress their Extroverted Sensing function, meaning they may forgo living life to its fullest
INFJ Functions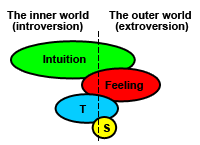 | | |
| --- | --- |
| 1. Dominant: | Introverted Intuition |
| 2. Auxiliary: | Extroverted Feeling |
| 3. Tertiary: | Introverted Thinking |
| 4. Inferior: | Extroverted Sensing |
Even more INFJs
We have over 20 more notable INFJs as part of our extended content

Get access: Learn more

Already a member?